Reverse Missionaries Trying To Save Western Christianity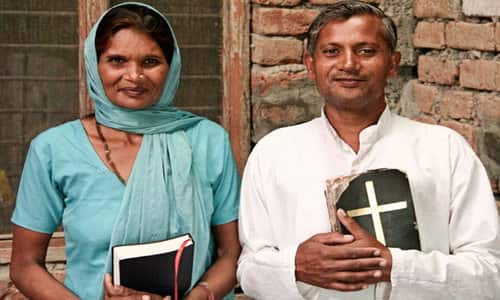 By PNW Staff
November 09, 2017
Share this article:
---
Missionaries poured out of Western Europe and into Latin America, Africa and Asia for hundreds of years to spread the Gospel, build churches and form congregations. Now the tide has shifted and missionaries from Africa, Latin America and Asia, where 50% of the Christian population is predicted to reside by the year 2050, are flowing back into Europe to revitalize Christianity.
The rise of secularism in the United Kingdom has had a devastating effect on Christianity and the Church of England is in danger of disappearing completely, as current trends destine it for extinction as early as 2033.
Nigerian and Korean missionaries in particular have dedicated their efforts to establishing churches, building relationships and breathing life back into the Church in Europe. One such man is Reuben Ekeme Inwe, a Nigerian from Lagos.
He tells of a dream his wife Roselyn had, a dream in which he was preaching to a White congregation as white sand (snow) fell on the church. Her vision would propel the couple to immigrate and found the Hope Centre in York, England that now serves as a community center and a church, offering exercise and language classes in addition to worship service. Reuben spends his days talking with and helping out members of his community as he builds relationships with white and black British alike.
The African Diaspora has been particularly invested in the efforts to bring back Christianity in England. At first, African-founded churches catered to immigrant and African-British congregations, as is the case with many immigrant-focused churches around the world.
But now there is a concerted effort to bring white, natively British men and women in to the fold. Church leaders are training their members in cross cultural communication and enlisting young men and women, many from Africa, to evangelize a British population.
Many of these new reverse-missionaries view this as their heavenly calling. Girma Bishaw, an Ethiopian-British pastor in London, recently told journalists, "Britain brought the Gospel to us in the past. Now, by God's providence, we are here when Christianity is very much challenged, and the UK churches are really declining. It's not just coincidence we're here." But it is also not without its challenges either.
York, England is 94% white and was one of the first cities converted to Christianity but, since then, has seen a sharp decline. Now fully 30% of the population proclaims no religion and in 2011, only 60% considered themselves Christian.
The first challenge of African missionaries in England is race. Churches that are predominantly African struggle to fill the pews with White members. Apart from simple racial momentum, there is also a very different style of worship. The African style tends towards the long and bombastic while the British is far more reserved.
What appeals to an audience in Lagos often does not to a London congregation, and the figure of the pastor as community head is also a cultural difference that stands out. African churches see the wealth and power of the pastor, often flanked by body guards, as a symbol of God's blessing, whereas the British would instead read hypocrisy into such a display of wealth and power. But it is with a Godly fire and a missionary's tenacity that these African evangelicals strive to spread the Word and build churches across England now.
Protestant churches have expanded to serve the flow of immigrants in England with a concentration throughout cities like London. Now, as many as half of all Christians who regularly attend church in inner London are Black, Caribbean or African, while representing only 13% of the population.
These churches, much like Reuben's Hope Centre, may be situated in bingo parlors, warehouses, theatres, restaurants and small stores. Just the South London neighborhood of Southwark is believed to contain 240 Black-majority churches.
Efforts to reach out to the wider community include theater and film productions with a Christian message, music, community outreach and old fashioned, door-to-door mission work. A production of Shakespeare, for example, may include a prologue that emphasizes the Christian influences on The Bard and how the plays moral dilemmas can be addressed through Biblical teachings.
The Redeemed Christian Church of God (RCCG) from Nigeria now has more than 800 branches in the UK. Harvey Kwiyani, a preacher originally from Malawi, who published Sent Forth: African Missionary Work in the West, now teaches a program with workshops meant to teach Britishness.
He instructs African missionaries in the UK on how to connect with their British neighbors and better understand British customs and idiosyncrasies. His message is that without cultural understanding, there can be no effective communication, "If you are going to talk to British people about their faith, you can't do it like we did in Africa. You have to build relationships."
So now that the center of mass for Christianity is shifting from the Northern to the Southern Hemisphere, it is the developing world that is assuming the responsibility of rebuilding God's kingdom where faith has waned.
---