Israel's Population Booming As Other Nations Decline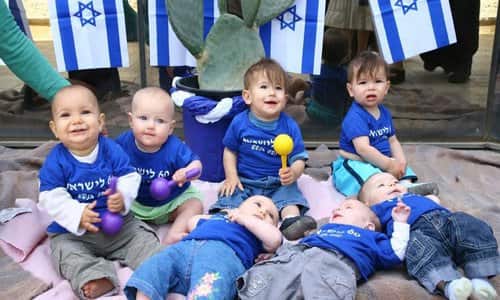 By PNW Staff
November 14, 2017
Share this article:
---
Most of the developed world, including the United States, much of Europe, South Korea, Japan and New Zealand, are in a crisis of shrinking native populations. With birthrates below the minimum replacement rate, native born populations are shrinking more each year and it may be only a matter of time until entire nations, entire cultures and peoples disappear altogether.
Yet there is a developed country that has a still-growing native population and healthy immigration: Israel. To put Israel's success into perspective, it warrants a quick review of the data from the countries facing decline.
The United States recorded the lowest fertility rate in its history in 2016. This was true across all age groups of women within their reproductive years. Whereas this decline may be applauded in teen girls (9% percent decrease from 2015) the rate also fell for other age groups as well.
Economic factors have led many families to postpone children until much later in life and thus women 20-24 years-old experienced a 4% decline while 25-29 year-old women showed a 2% decline.
The fertility rate among older women increased, but the 1% rise in women age 30-34 and 2% in women 34-39 wasn't enough to offset the larger losses in the younger age brackets. The consequent result is a fertility rate slightly below replacement, though the population is being sustained through continued immigration.
A similar story is playing out across Europe. Finland is among the hardest hit by this demographic shortage with a current fertility rate of 1.57 babies born to each woman. The minimum replacement rate for developed countries is estimated at 2.11 births per woman (and this number rises for underdeveloped countries with more risk factors).
For a social welfare state that requires high taxes on a large, young workforce to maintain its economy, the dearth of new workers is a major economic problem. Cultural notions that it is "ok not to have children" have become entrenched in Finnish culture and despite government efforts, the sharp decline (now the lowest birthrate in 150 years) shows no sign of stopping.
As the sanctity of human life is diminished worldwide, one cannot overlook the tragic, ironic consequence that abortion is having on national economies. "The death toll from abortion in the past 95 years far exceeds the combined human deaths by war, genocide and democide of the past 2,000 years. Since 1920, more than one billion unborn children have been murdered by abortion, and currently more than a million die each month. Abortion is the greatest genocide in history!"
The United States and most European countries have managed to continue to grow slowly through immigration, which is akin simply to rearranging the deck chairs on the Titanic. Japan, however, has made no such effort and, as a result, saw its population decline by 300,000 in 2016. Economic insecurity and a cultural shift away from both families and intimacy are all cited as factors.
Workers moving between unstable, temporary jobs, even as men are still expected to be the breadwinners, has caused a ripple effect through the culture. With men unable to achieve stability, they simply don't marry and have children. Women, too, may find themselves stuck in irregular jobs that don't allow them the chance to start a family, according to Ryosuke Nishida, a professor at the Tokyo Institute of Technology.
Men and women being required to work until midnight, families unable to make ends meet with a single salary, high risk of job loss or simply temporary positions rather than long-term all contribute, but so does an increasingly individualistic culture. Hostile to immigration, Japan is predicted to accelerate its population reduction in the coming decades.
But all this doom and gloom fades away when we turn to Israel. Just as God's promise to Abraham in Genesis, to "Bestow My blessing upon you and make your descendants as numerous as the stars of heaven and the sands of the seashore" Israel has been one of the few modern nations that has bucked the trend.
Experts estimate that the population of Israel will more than double in the next half century, hitting 20 million by the year 2065, up from the current 8.7 million.
Maintaining fertility rates above replacement, their population growth has been 1.82% from 2006 to 2015. The total fertility rate is at a healthy 3.11, far higher than Japan's alarming 1.39 and Europe's worrisome 1.58 children per woman.
Even above the world average of 2.35, which includes Africa and India, Israel has both a strong native population increase and a positive immigration flow. Within Israel, Arab fertility rates have tended to be higher, but Jewish rates are rapidly catching up with a 20% increase from 1998 to 2017.
Immigration into Israel is also of a very different nature than immigration into countries such as Sweden or Germany that are welcoming in millions of Muslims who possess very different cultures, values, and histories at odds with European culture.
In Israel, the influx of immigration works to strengthen rather than destabilize the nation, and many also see it as fulfilling yet another Biblical prophecy.
In Isaiah 11:12, it says, "He will raise a banner for the nations and gather the exiles of Israel; He will assemble the scattered people of Judah from the four quarters of the earth."
This is exactly what is happening now.
---