ISIS' Next Plan: Ticking Time-Bomb Kids In Europe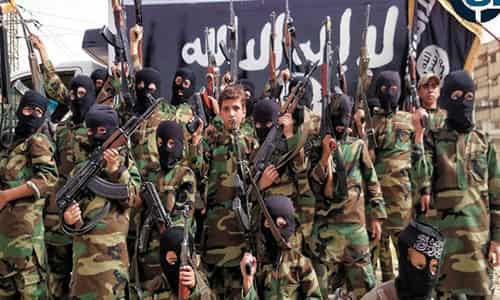 By Clarion Project
November 30, 2017
Share this article:
---
ISIS has entered refugee camps in the Middle East to brainwash women and children into becoming suicide bombers in Europe. That's according to the European Centre for Counterterrorism and Intelligence Studies.
This is ISIS' latest tactic in the wake of its crippling defeats in Syria and Iraq. The Centre mentions camps in Turkey but says Islamic State is also active in camps in other countries. Lebanon and Jordan are both major destinations for refugees from the fighting. There are also IDP (internally displaced people) camps in Iraq.
There were media reports earlier this year of ISIS paying smugglers to bring child refugees out of the camps to be drafted into Islamic State's fighting forces, the Centre notes. ISIS was reportedly prepared to pay $1,000-2,000 per child in Jordan and Lebanon.
The idea was for these children to initially fight with ISIS in exchange for a salary to be paid both to the youths and their families. At a later date, ISIS would dispatch them to Europe to carry out suicide attacks.
The report highlights the desperate plight of the young housed in refugee camps making them easy prey and points to ISIS promising them trips to Europe.
Map shows routes taken by children from iraq and Syria to the camps and on to Europe.
Thousands Disappear in Europe
Another issue has arisen. Children from Syria and Iraq have simply disappeared from refugee centers across Europe, the Centre says.
Some 200,000 minors entered Europe as refugees from the fighting, 10,000 of them without parents.
The Centre says 30,000 children have vanished:
Italy: 5,000
Sweden: 1,000
Germany: An unknown number estimated in the thousands
Internal German intelligence is concerned that returning minors - German children who went to Iraq and Syria and subsequently returned - might become frontline recruiters from ISIS operations in Europe.
Separately, the Centre says some assessments suggest ISIS numbers as many as 450 French children in its ranks and 100 from Belgium.
ISIS Threats
ISIS has threatened to carry out an attack on New York this Christmas with a chilling poster showing Santa Claus standing on a low roof next to a box of dynamite looking out over a crowd of shoppers in Times Square.
The poster reads 'We meet at Christmas in New York... soon' in black on white. It's the latest propaganda image warning of attacks during Christmas time across Europe.
The group have been using encrypted communication channels to share posters of London's Regent Street and Paris' Eiffel Tower with images of jihadists and blood superimposed on them. The pictures show a chilling message in English, French, and German stating: 'Soon on your holidays'.
The posters are a chilling reminder of the terror attack on a Berlin Christmas Market last year. On December 19, Tunisian asylum seeker Anis Amri drove a truck into the crowds at the Christmas Market at Breitscheidplatz in Berlin.
Twelve people died, including the original driver of the truck who was shot by Amri when he hijacked the vehicle, and 56 others were injured.
---