Chinese Hypersonic Multi-Nuke Will Be Able To Strike Anywhere In The World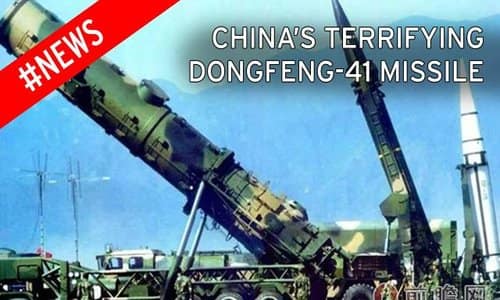 By Mac Slavo/SHTFplan.com
November 30, 2017
Share this article:
---
In mere months, China will have a ballistic missile completed and ready to strike anywhere in the world in 30 minutes. And it can carry up to ten nuclear warheads.
The Dongfeng-41 missile, which is said to have the longest range of any ballistic rockets in the world, has undergone its eighth test and is now near completion, according to state-run media.
Previous reports have claimed that the missile has a range of at least 7,500 miles (12,000km) and could carry up to 10 nuclear warheads - meaning it could strike multiple targets. The new missile also has a speed of more than Mach 10, or ten times the speed of sound (7,672mph) and can use decoy devices to find its way through the enemy's missile defense systems.
"It can carry up to 10 nuclear warheads, each of which can target separately," Xu Guangyu, a senior adviser of the China Arms Control and Disarmament Association told Global Times. The missile must have "matured considerably" if it is to be operational in 2018, Guangyu said.
Yang Chengjun, a Chinese expert on missile technologies and nuclear warfare strategy, told China Central Television Station during Sunday's programme that the DF-41 missile is reliable, quick and easy to transport.
'The missile can hit every corner of the earth, allowing China to counter a nuclear strike on the country,' Yang said in the programme.
Mr Yang claimed that all of the DF-41 tests have been successful so far while the success rates of similar tests in the United States and Russia are around 90 per cent and 80 per cent respectively.
Apparently, DF-41 also requires less soldiers to operate and can be transported across 'a variety of complicated terrains'. It's said to be able to launch from road and rail mobile launcher platforms, as well as silo-based launchers.
Mr Yang also said that it only took China a bit more than 10 years to design and produce the missile from scratch, while it would take the United States and Russia 25 years to complete a similar task.
The warhead will be inducted by the People's Liberation Army (PLA) in 2018 after first being introduced in 2012, the report from China's state-run Global Times suggests.
"Once the Dongfeng-41 goes into service, China's ability to protect its own safety would greatly increase," said Guangyu. In July, a propaganda video from China claimed that Beijing owns about 2,500 ballistic missiles. In the video, Dongfeng-41 is highlighted as one of the "world's top five intercontinental missiles."
Some are saying that this is a "message" to president Donald Trump, although PLA denies those accusations. The development of this missile was also ongoing during the Obama Administration. One mainland analyst cautioned that such a test would not be tied to the change in American leadership, given the months and even years of preparation it requires.
China has rapidly expanded it's military force over the past few decasdes and now has around 68 submarines, one home-made aircraft carrier, and the impressive J-20 stealth fighter which has cutting-edge supersonic and stealth technologies.
Some have suggested that the aircraft was built in part from plans of US war planes, obtained by Chinese hackers jailed earlier last year.
Military analysts said it was too early to tell if the jet matches the capabilities of America's F-22, which was thought to be the original model.
Beijing is believed to have around 270 nuclear warheads as of July 2017.
In comparison, Russia has 7,000, the United States has 6,800 and France has 300.
Originally published at
SHTFplan.com
- reposted with permission.
---