Drumbeats Of Ezekiel 38 - Israel Bombs Iranian Base In Syria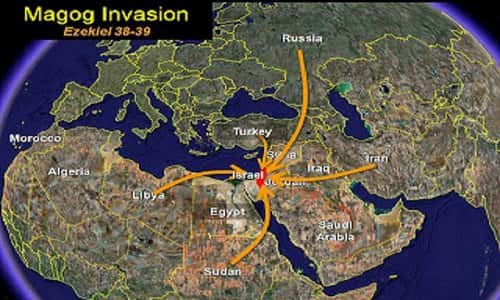 By Clarion Project/Britt Gillette
December 04, 2017
Share this article:
---
Israel's air force has bombed a military target thought to be an Iranian military base outside Damascus, Syria December 2. The hit was reported by Arab media outlets. An arms depot was destroyed in the strike, according to the London-based Syrian Observatory for Human Rights.
Iran is a staunch ally of embattled Syrian President Bashar al-Assad and provided him with military and financial assistance during the long Syrian civil war.
Arabic media reported the target was an Iranian military base 9 miles south of Damascus and just 30 miles from the Israeli border that was revealed by the BBC three weeks ago. It is the first time reports have emerged of Iran establishing a permanent base in Syria.
"At half past midnight [2230 GMT Friday], the Israeli enemy fired several surface-to-surface missiles at a military position in Damascus province," Syria's state SANA news agency reported, according to The Times of Israel.
An account on the Telegram messaging app linked to the Iranian Revolutionary Guards Corps reported that 12 Iranians were killed in the strike, according to Lebanon's Al-Mustaqbal TV and the Saudi-owned Al-Arabiya network.
Israel repeatedly warned it will not allow Iran to develop a military presence in Syria. Iranian leaders have long threatened to "wipe Israel off the map." In June 2017, demonstrators set up a countdown clock to Israel's destruction in the center of the capital Tehran.
Israeli Prime Minister Benjamin Netanyahu issued a stern warning in a video announcement on November 30, before the strike.
"Let me reiterate Israel's policy: We will not allow a regime hell-bent on the annihilation of the Jewish state to acquire nuclear weapons," Netanyahu said. "We will not allow that regime to entrench itself militarily in Syria, as it seeks to do, for the express purpose of eradicating our state."
Netanyahu is said to have conveyed a warning to Assad via a third party just days ago that Syria will be targeted if it allows Iran to develop a permanent military presence in Syria.
With all the events taking place in Syria right now, many people are asking, "What does the Bible have to say about Syria and the end times?
Chapter 17 in the Book of Isaiah paints a sobering picture. In it, the city of Damascus is a pile of rubble. The Bible says it will disappear from the face of the earth and become a heap of ruins (Isaiah 17:1).
At the same time, large parts of northern Israel will also lie in ruin (Isaiah 17:3). Now, before you say this prophecy was fulfilled during Old Testament times, keep this in mind... This passage says Damascus will cease to be a city (Isaiah 17:1).
It will be utterly and completely destroyed. Yet, Damascus is one of the oldest continuously inhabited cities on record. Its history goes back more than 5,000 years. At 2,600 years old, the Book of Isaiah itself is new compared to Damascus! This prophecy is yet to be fulfilled.
Current events in Syria are also setting the stage for the Gog of Magog War. More than 2,600 years ago, the prophet Ezekiel warned of a future time when a vast coalition of nations will attack Israel.
Ezekiel identifies these nations as "Magog, Rosh, Meschech, Tubal, Persia, Cush, Put, Gomer, and Beth-togarmah" (Ezekiel 38:1-6). These nations have since come to be known as the Gog of Magog alliance.
Now, with the exception of Persia and Cush, I realize most people have never heard of these nations.
But keep in mind Ezekiel used the names of these nations as they were known in his day. Each one is a clearly identifiable nation today. So who are these nations in our day and time?
Below is a list. The Old Testament name is listed first, followed by its modern day equivalent:
Rosh = Russia
Magog = Kazakhstan, Uzbekistan, Turkmenistan, Kyrgyzstan, Tajikistan, and Afghanistan
Persia = Iran
Cush = Sudan
Put = Libya
Meshech, Tubal, Gomer, and Beth-togarmah = Turkey
Collectively, these nations have never attacked Israel. In fact, in the history of the world, such an alliance of nations has never existed.
But today we see it coming together right in front of us. Since 1989, Russia and Iran have gradually strengthened their diplomatic, military, and economic ties.
Yet, in the first 2,600 years after Ezekiel recorded his prophecies, the nations of Russia and Persia (Iran) had never been part of any alliance of any sort. Never. Cooperation between Russia and Iran, especially military cooperation, didn't take place.
This led many people to claim Ezekiel's prophecy was symbolic. Why? Because the idea of the Gog of Magog war seemed absurd. After all, at the dawn of the 20th Century, Russia was an orthodox Christian nation and Israel didn't exist!
But those who believed in a literal interpretation of the Bible knew otherwise. They knew all prophecy would come to pass. Because bible prophecy doesn't come from mere humans. It's God's Word (2 Peter 1:19-21).
In the years since, the stage has been set for the literal fulfillment of Ezekiel 38-39. A 1917 communist revolution transformed Russia from a Christian nation to an atheist nation.
In 1948, Israel once again became a nation. And earlier this year, Russia and Iran issued a joint statement vowing to respond with force to any aggressor.
And Turkey? For decades, people have wondered how Turkey could be a part of this alliance. After all, Turkey is a member of NATO.
And in late 2015, Turkey shot down a Russian jet when it strayed into Turkish airspace. Russia and Turkey seem to be at odds.
So how could Turkey be a part of this alliance? At first glance, it seems unlikely. But in the summer of 2016, Turkish President Recep Tayyip Erdogan jailed thousands of political opponents. And now has Turkey voted to eliminate its parliamentary form of government and give expanded powers to Erdogan.
Ultimately, this could be what pushes Turkey into the Russian sphere of influence. Erdogan is an anti-Western, pro-Islamist leader, and he's worked hard to strengthen Turkey's ties with Russia.
In light of these developments, we can see the Gog of Magog alliance coming together for the first time in history.
For the first time since Israel re-emerged on the world scene in May 1948, the main players of the Ezekiel 38-39 alliance are all working together. Even more important, they all have military personnel on Israel's northern border. The stage is set for the fulfillment of Ezekiel 38-39.
---