Christianity Growing In Iran Despite Persecution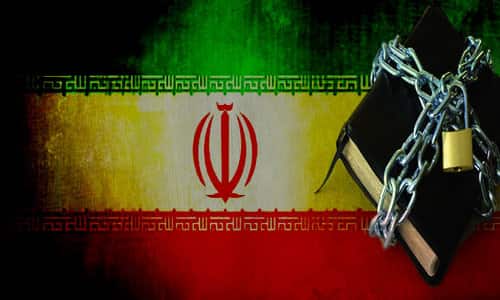 By PNW Staff
December 14, 2017
Share this article:
---
Iran is seeing a strong growth of Christianity, despite the Islamic regime's attempts to stifle it and impose absolutist Islamic rule across the country.
The missionary group Elam Ministries estimates that there are upwards of 360,000 Christians living in Iran today, though this number is admittedly difficult to measure precisely due to the Islamic regime's efforts to crack down on churches, stop conversions and drive Christian worship underground.
It is interesting to note that in 1979, the Iranian government claimed that there were as few as 500 Christians in the country.
The Center for Human Rights in Iran, a New York-based NGO, reported in July on the Iranian crackdown on Christians and Christian converts. In June 2017, 11 Christian converts, as well as the leader of Assyrian Pentecostal Church, were given long prison sentences for their religious activities.
The Islamic government banned informal house churches several years ago, requiring all "official" Christian churches to register with the government and submit to constant monitoring. The regime believed that so long as Christianity can be isolated among a minority of the population and not allowed to influence any of its Muslim citizens, it can be allowed to exist, but this strategy has proven ineffective in silencing God's word.
The Ayatollah Alavi Boroujerdi recently stated to the Iranian media that "accurate reports indicate that the youth are becoming Christians in Qom and attending house churches." Qom is among the most devout Islamic cities in Iran and, thus, waves of conversions to Christianity there are likely to result in a ripple effect across the country.
Indeed, another senior religious official, the cleric Ayatollah Makarem Shirazi has also expressed concern that Iranian teens and young adults are being converted to Christianity. For a government that depends on Islam for its control over its subjects, such conversions are a direct threat to its power.
In response, the Islamic regime is closing down churches such as the Central Assemblies of God (AOG) and Janat Abad churches in Tehran and the AOG church in Ahwaz. No church services or public broadcasts relating to Christianity are now allowed in Farsi, Iran's official language.
This move is meant to prevent proselyting those who don't speak English or other foreign languages, and to complete this measure, possession of Christian materials in Farsi is also harshly punished, with books being confiscated and destroyed. It is currently not known how many Christians sit in Iranian prisons, subjected to torture and isolation, because of their faith.
The government has responded with these harsh measures meant to isolate and punish the Christian minority, but it has also increased its spending on Islamic teaching and propaganda. The Ayatollah Makarem Shirazi, after recognizing the waves of youth conversions to Christianity in the suburbs of Mashhad, lead a movement immediately to deploy Islamic teachers and imams to the area to bring the students back to Islam.
The government spends many millions of dollars every year not only to support the mosques but to run Islamic schools, Islamic outreach and youth programs meant to indoctrinate children and teens, so they remain loyal to the regime.
By law, students in Iran who come from Christian families are allowed to submit letters to their schools that exempt them from the study of Islam and may instead study Christianity. But reports show that increasingly these letters are being denied with the assertion that Christian churches are illegal organization and that the students can either learn Islamic doctrine or drop out.
Policies like these have helped put Iran at eighth place on the list of countries that persecute Christians.
Yet, despite all of the challenges, the movement of house churches continues to build underground. Iranian youth continues to come to Christ and most of the official Christian churches remain open. The Word of the Lord has begun to move amid the darkness and stories of mass conversions are now not uncommon.
Elam Ministries reports that "Church leaders believe that millions can be added to the church in the next few years - such is the spiritual hunger that exists and the disillusionment with the Islamic regime."
For the people of Iran, Christ represents a light in the darkness and a path out of bondage, both earthly and spiritual. "The people that walked in darkness have seen a great light: They that dwell in the land of the shadow of death, upon them hath the light shined." (Isaiah 9.2)
---