New Push For EU Superstate Army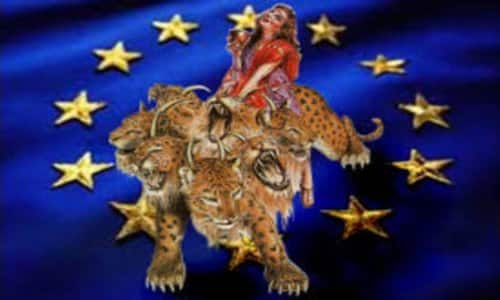 By PNW Staff
January 09, 2018
Share this article:
---
It's called PESCO. It stands for the Permanent Structured Co-Operation and is a treaty among EU nations providing a framework for mutual defense that many EU superstate proponents have been pushing for a long time.
Technically, it is not a European army, per se, but many consider it a necessary first step as it requires each country to strengthen its military assets and defense capabilities and cooperate if needed.
There are plans for enhanced joint training, streamlining of cross-border military operations, and medical operations. It establishes a defense fund for procurement of weapons and the development of "rapid reaction forces," armed with tanks and drones.
The initial funding will include a 5 billion-euro ($5.83 billion dollar) defense fund. PESCO allows for integrated armed forces, a combined pool of Defense spending, and the creation of a joint command headquarters. European Union Foreign Affairs Chief Federica Mogherini said the pact will focus not just on military cooperation, but also on cyber-security.
The idea of a central defense was proposed back in the 1950's, but Britain resisted and the movement fizzled. Now, 25 countries have signed on to come together on planning, operations, and deployment. Only Britain, Malta, and Denmark have not signed on.
EU Nations That Have Signed On To PESCO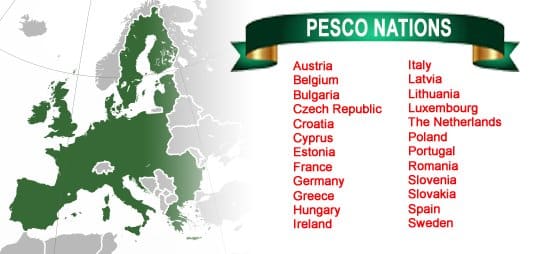 Overlap With NATO
There is overlap with NATO nations, but not all NATO allies are taking part in PESCO. NATO, as an organization, supports the move, but not all NATO countries support it. Turkey, for example, is a NATO member, but not a member of the E.U.
Turkey hosts about five thousand U.S. Air Force troops, but it has its own issues with Germany and has even discussed joining a security bloc with China, Russia, and Central Asian nations (Kazakhstan, Kyrgyzstan, Tajikistan, Uzbekistan) called the Shanghai Cooperation Organization (CSO).
United States Support
Germany, which led the charge to establish joint E.U. military operations has concerns that the United States can no longer protect Europe. U.S. President Donald Trump's warning that they need to pay their own way if they want U.S. military help, coupled with the United Kingdom's Brexit from the European Union, fueled talks that have been stalled for decades.
"Over the past decade, it has become crystal clear that our American partners consider that they are shouldering too much of the burden for their wealthy European Allies," said European Commission President Jean-Claude Juncker in a June speech, advocating the creation of a joint defense operation. "We have no other choice than to defend our own interests."
In fact Gernmany's foreign minister has expressed hopes of a European superstate becoming a global player in international politics. Foreign minister Sigmar Gabriel said it was time Europe found its "own voice" instead of letting the US dictate global affairs while the continent argues amongst itself.
Whereas Britain is not part of PESCO, the door is open for future discussions. Britain and France, both nuclear-armed, came together in 2010 to establish the Combined Joint Expeditionary Force, which promised British Armed Forces and French Armed Forces to provide mutual aid and deployments with land, air, and sea forces under a combined command, control, and support logistics.
The Clock Is Running
"In the last decades, there has not been a more compelling set of security challenges, economic facts and political arguments justifying a drastic step change in European defense," Juncker said. "But more than that, the clock is running on how long we can live in a house half built. A European Security and Defense Union will help protect our Union, which is exactly what EU citizens expect.
Bible prophecy watchers have long speculated that an EU superstate could represent the final "Beast" empire talked about in the book of Daniel and Revelation.
The potential for a new more powerful/federalist Europe with a single president to lead it has ramifications not only politically and economically but prophetically as well.
Surprisingly, even The Economist magazine recognized that this was an important factor for some Protestants voting to leave the Union in their article: "Protestants, leaving Europe is a matter of eschatology".
These evangelicals believed that remaining in the EU put them at risk of eventually joining the "The Beast's" final world empire. Why did they believe this?
The Bible speaks of several different beasts. Each one is used symbolically to give insight into different aspects of the final world empire and it's leader, and when studied together give us a much better picture of what to expect in the Last Days.
Revelation 13 speaks of a beast in its first 7 verses. Another beast, ridden by a woman, is described in Revelation 17. Daniel 7 speaks of four separate beasts, with a reference to a "little horn" that appears during the time of the fourth beast. Revelation 13 also describes a second "two-horned beast," beginning in verse 11. These beastly images are also to be understood in the context of the giant image of a man composed of four separate metals in Daniel 2.
Relative to most of these descriptions, in describing this final world empire is the number 10; 10 toes, 10 heads and 10 horns. Each give us different understanding but all point to an alliance of 10 nations or leaders that will one day be controlled by the "little horn", the Antichrist.
It remains to be seen how the number 10 will figure into this new European push but some have suggested as the EU enlarges it needs a smaller council to help it be administered. A European council of 10 that represtents the bloc of nations to the EU president is an interesting possibility.
Will a new, powerful and charismatic leader emerge on the scene to lead Europe? European Commission Juncker is already pushing for the spread of the Euro to non-European nations. This would certainly spread the economic power of the joint bloc as well.
We do not know how these proposals will ultimately play out but we do know eventually this prophecy will come to pass. Recent events represent serious change for this region and the world. It is an area that the Bible has a lot to say about in the Last Days and we encourage you to become familiar with the different passages in Daniel and Revelation that reveal what the final world empire will look like.
Several prophecy experts recently came together to produce a new 10 hour DVD series called "Decoding The Future", that walks you through the Book of Revelation, chapter by chapter. This resource will equip you with a better understanding of how these "beast" passages fit into the larger context of Revelation and the Bible itself.
---