Abbas At UN: 'Israel Occupied Our Territories In 1948', 'We Are The Canaanites'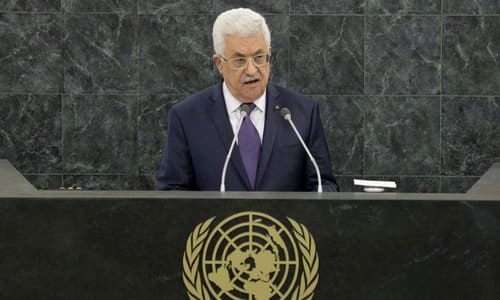 By Benjamin Kerstein/Algemeiner.com
February 23, 2018
Share this article:
---
Palestinian Authority President Mahmoud Abbas appeared to endorse the idea that all of Israel is illegally-occupied territory in a speech he delivered at a UN Security Council meeting in New York City on Tuesday.
In a lengthy, rambling discourse given in a voice that sometimes was little more than a mumble, Abbas said, "No one has held Israel accountable when it occupied our territories in 1948."
Extremist Palestinians and their supporters often refer to the "occupation" as including all of current Israel, thus rejecting the Jewish state's legitimacy and right to exist.
Abbas also embraced another extremist Palestinian myth, making the claim, "We are the descendants of the Canaanites that lived in Palestine 5,000 years ago."
He also clearly rejected any Jewish national rights in the Land of Israel, saying that in the Balfour Declaration, in which Britain endorsed the creation of a Jewish "national home" in then-Palestine, "those who did not own gave to those who had no right."
In addition, Abbas decried "Israel's refusal to implement Resolution 181," thus endorsing the "right of return" that would flood Israel with millions of Palestinian refugees.
In a long peroration, Abbas claimed that the Palestinians had "persisted in our efforts to reach peace. ... It was the Israeli government's intransigence that caused the failure of all of this."
The Palestinians opposed a partition plan that would have created a two-state solution in 1947, rejected a proposed peace agreement in 2000, and did so several more times over the subsequent decade.
Abbas also denied that the Palestinians engage in terrorism and incitement to violence, saying his people are "committed to fostering a culture of peace and rejection of violence," and their goal "is one thing only: fighting terrorism."
As expected, Abbas also slammed the Trump administration for its decision to recognize Jerusalem as Israel's capital, calling it a "dangerous and unprecedented" move. The US, he said, chose to "remove Jerusalem from the table. ... It did so ignoring that east Jerusalem is a part of the Palestinian territory."
In addition, he asserted, the "US violated international law ... with its decision regarding Jerusalem" and caused a "deadlock in the peace process." Abbas then demanded that the US "suspend" its recognition and refrain from moving its embassy to Jerusalem.
Abbas further hinted that the Palestinian Authority was growing skeptical about the efficacy of its continued existence, saying it has become "an authority without authority. ... We are working for the occupation. We are employees for the occupation.
And we say Israel must uphold its obligations as an occupying power. We do not oppose Israel shouldering its responsibility in the West Bank," a hint at the possibility of dissolving the PA and "handing the keys" over to Israel.
As was also expected, Abbas announced his intention to internationalize the conflict. He called for a "multi-level international coalition" that would replace America as the primary broker of the Israeli-Palestinian peace process.
This coalition should hold a peace conference sometime this year and decide "all permanent status issues," Abbas stated.
In addition, he called for the "State of Palestine" to be recognized as a full UN member-state.
Saying "the situation is no longer bearable," Abbas further hinted that one of the consequences of the status quo would be the flooding of Europe with Palestinian refugees.
---