Nigeria's Christians Today, Europe's Christians Tomorrow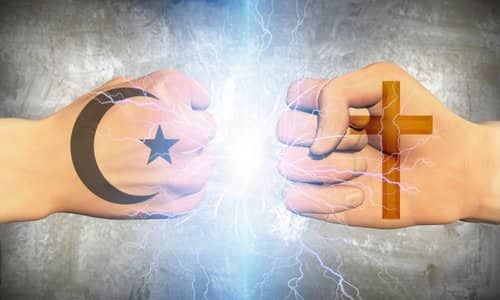 By Giulio Meotti/Gatestone Institute
March 19, 2018
Share this article:
---
Usually, Africa only breaks through to the West when Western targets are attacked by terrorists. First, two US Black Hawk helicopters were shot down in Somalia in 1993. Then Al Qaeda attacked US embassies in Kenya and Tanzania in 1998.
Then, only a few days ago, Islamic State published a video purporting to show an ambush in Niger in which four US soldiers were killed last October. The West was silent. The West does not seem to care about the ongoing Islamic terrorist genocide on Africa's biggest Christian population in Nigeria.
A few days ago, the Coliseum in Rome was lit up red to protest the persecution of Christians. Italy's most famous landmark was illuminated at the behest of "Aid to the Church in Need" to draw attention to the intense and enormous massacres Christians are suffering.
Writing for The Spectator, Douglas Murray rightly asked: "Who will protect Nigeria's northern Christians?". In the last attack, 15 Christian villages were ethnically and religious "cleansed".
First, extremist Muslims ransacked Christian towns and cleared them of Christian religious symbols, and then murdered 19 Christians . In just one month, more than 80 Christians have been murdered, often hacked to death with machetes.
Not a day passes in Nigeria without Christians being torn to pieces, in schools, churches and homes. It is a project of ethnic cleansing on a level with the terrible news coming out of Syria.
The "African Taliban" seem dedicated to exterminating Christians and imposing Islamic law (sharia) throughout the country. In the diabolical logic of political Islam, Christians are considered "unworthy of living."
Nigeria, among all the post-colonial African states, was once regarded as the "model country", where black magistrates administered justice in the same white wig as their British colleagues. Today, this country lives under a bloody apartheid of faiths, while suffering a war declared by a "horde" that aims to "Islamize the nation", as Wole Soyinka, the Nigerian Nobel laureate for literature, said of the terrorists.
Bishop Joseph Bagobiri, of the Diocese of Kafanchan, gave an accounting of Islamist attacks in only his area: "53 villages burned down, 808 people murdered and 57 wounded, 1,422 houses and 16 churches destroyed". 1.3 million Christians also fled to safer regions in the country. This is indeed ethnic and religious "cleansing."
According to Philip Jenkins, a leading expert on Christianity, it is in Nigeria that the balance between Islam and Christianity in Africa will be decided. The "religious fate of Nigeria could be a political factor of immense importance in the new century", Jenkins wrote.
That is why the Islamists have been killing the Christians en masse. Nigeria tops the blacklist of countries for the number of Christians murdered for their faith: more than half of the 7,000-plus murders across the globe in 2015 alone.
Last February, U.S. President Donald Trump and his counterpart, Muhammadu Buhari of Nigeria, were told that at 16,000 Christians have been murdered in Nigeria since June 2015. A report by International Society for Civil Liberties & the Rule of Law revealed:
"The estimated 16,000 deaths are specifically composed of 2,050 victims of direct State violence, 7,950 victims of police custody or captivity killings through racial profiling and unprofessional crime detection management, 2,050 victims of Boko Haram insurgency and 3,750 victims of terror Fulani Herdsmen killings".
Extremist Muslims not only butcher Christians; they also destroy their places of worship. At least 2,000 Christian churches have been razed to the ground by Boko Haram in their campaign to drive all Christians out of northern Nigeria.
In 1987, extremist Muslims had started chanting "Islam only!" while attacking churches and Christians shops. The goal of these massacres by Muslims seems to be to change the religious and demographic geography of the African continent by erasing the historic dividing line that cuts horizontally across central Africa at its widest part from the Islamic Senegal to Somalia.
All that remains of the "Dar al Harb" ("the land of war") is supposed to become "Dar al Islam" ("the land of Islam"). Nigeria, the largest patchwork of faiths in the world, is at the center of this project. Extremist Muslims therefore are repeatedly attacking the Christian faithful, often during their religious services.
Nigerian Catholic bishop Hyacinth Egbebo warned, "If the Islamists should overrun Nigeria, it will be a steppingstone [sic] to conquering smaller countries. If Nigeria falls to Islamic extremists, all of Africa will be at risk".
The West truly needs to care about the daily carnage suffered by this poor, black, Christian and abandoned population. Wole Soyinka's "horde" will not be confined to the Nigerian borders, but will try to strike Western Europe as well.
It already happened with Umar Farouk Abdulmutallab, the Nigerian terrorist sentenced to life in prison for having tried to bomb a US-bound flight on Christmas Day 2009. We are lucky to have survived as many attacks as we have in Madrid, London, Paris and Berlin, to recall just a few.
But how many more? And for how long?
---