Israel Unleashes Stunning Strike Capabilities On Iranian Forces In Syria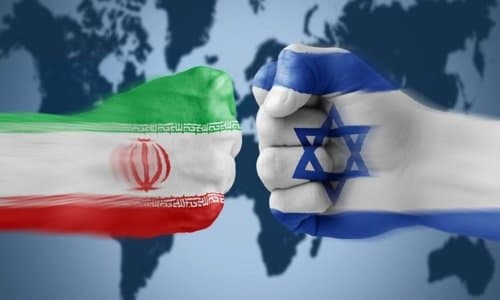 By Yaakov Lappin/JNS.org
May 11, 2018
Share this article:
---
In striking more than 50 Iranian military targets within 90 minutes early on Thursday morning, the Israel Defense Force displayed just a sample of its advanced, intelligence-fueled precision firepower, dealing a crushing blow to Iran's assets in Syria.
This exchange of fire represents a new, stepped-up phase in the escalating Israeli-Iranian standoff in Syria.
Much of Iran's military infrastructure in Syria was destroyed in this wave of strikes, likely leaving the Quds Force—the overseas elite Iranian unit trying to consolidate its presence in Syria—reeling.
The Quds Force has been busy in Iran, building missile and rocket bases, drone bases, importing Shi'ite militia forces and trafficking heavy weapons into the region. It had begun launching direct attacks on Israel in contrast to Iran's older pattern of aggression, which was based on activating proxy attacks.
Most disturbingly, the Quds Force had begun initiating the next stage of Iran's takeover of Syria. All of these efforts had one goal: to be able to use Syria as a springboard for attacking Israel.
The Iranian axis in Syria, with the help of Russian airpower, has nearly completed its victory over the Sunni rebel organizations and could now turn its attention to stage two of its Syrian project: Israel.
The Iranian leadership has made no secret of its intention to establish a grand, radical Shi'ite empire across the Middle East, stretching across Iraq, Syria and Lebanon—and beyond. These imperial ambitions threaten not only Israel, but the region's Sunni powers, which is why these states are in full support of Israel's self-defense measures.
Iran's mistake was to underestimate Israel's ability to put a stop to this plan. On Tuesday night the Quds Force, led by the charismatic and notorious Gen. Qasem Soleimani, dispatched a truck rocket-launcher towards Israel. As it drove south of Damascus, preparing to fire on Israel, it was destroyed in a missile attack.
Large quantities of munitions fired in little time
The ability to detect such a developing threat in real time—and take action—is exactly the kind of unparalleled intelligence and strike capabilities that enable Israel to be a step ahead in its conflict with Iran.
But the Iranians did not take the hint. They tried again on Wednesday night, firing 20 rockets at IDF positions on the Golan Heights. The IDF was prepared, intercepting the rockets with Iron Dome missile-defense system, and then going on the offensive in a massive wave of firepower.
Israel's operation on Thursday, which was the largest conducted by the Israel Air Force in years, required extraordinary intelligence-gathering abilities, and in particular, the know-how to map out the various locations in which the Quds Force had taken root. This intelligence was then converted into the capability to fire guided munitions at the targets in large quantities in little time.
Several of Syrian President Bashar Assad's air-defense batteries made the mistake of getting involved in the fight, firing surface-to-air missiles at Israeli jets. They paid a price for that decision; a good number of units were destroyed in Israeli counter-strikes.
These events ultimately mean that Iran tried to force the Jewish state to accept its presence in Syria, and the effort completely failed. Iran ended up losing more than 50 military targets, and Israel's message to Tehran—to exit Syria immediately—received a powerful boost.
It's too soon to know if this round of fighting has ended. But Iran is unlikely to give up on Syria so quickly. Despite the blow absorbed, the Iranians will likely make a new attempt to move into Syria, smuggling new kinds of weapons, and preparing the ground for future attacks on Israel.
The events of recent days have marked the start of a new phase in a long-term Iranian-Israeli long-term conflagration. This is a conflict, however, that began when Iran came to Israel's borders to threaten and attack it, and not the other way around.
So far, Hezbollah has kept out of this conflict, and this is welcome news. Iran is unlikely to want to risk its proxy ensconced in Lebanon, preferring to continue pointing Hezbollah's 120,000 rockets and missiles at the Jewish state.
Despite a remarkable display of Israeli military capabilities, this is no time to be complacent. The Iranians will be back, and the IDF must be prepared for its return.
Originally published at
JNS.org
- reposted with permission.
---