Church Sued For Not Hosting LGBT Event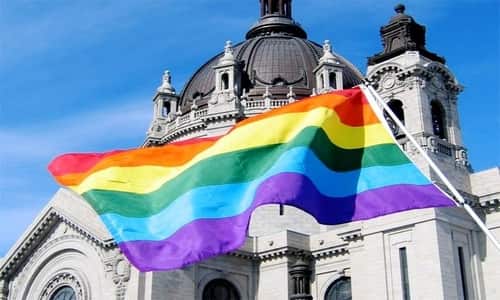 By PNW Staff
June 08, 2018
Share this article:
---
Anti-discrimination laws continue to be used to attack churches and other religious organizations for not supporting sinful behavior, this time in Portland, Oregon.
The Ambridge Event Center of Portland Oregon, a company contracted to manage an event center owned by Holy Rosary Church, is now suing the church for lost income, improvements made to the facility and attorney's fees (a total of $2.3 million). The lawsuit filed in May of 2018 stems from a 2015 dispute in which Ambridge found itself compelled to turn away an LGBT group that wanted to host an event.
Since the target of the lawsuit is a church, this case is unique among other cases, such as cake shops and wedding or photography businesses, that have been forced to pay damages after they refused to do business with homosexual couples. Not only is the target of the lawsuit a church but the plaintiff is not the LGBT group but instead a private, for profit business that claims to be harmed by the church's policies.
Since religious organizations are largely exempt from Oregon state discrimination law, it is highly unlikely that Ambridge will prevail, but the church will be forced to pay out significant attorney's fees simply to defend itself from such legal attacks.
In 2015, Ambridge was approached by the PFLAG Black Chapter, an African-American LGBT group that wished to hold a conference at the event center owned by Holy Rosary Church. Ambridge, a private for-profit company was contractually obligated to decline clients that conflicted with the moral stance of the church, turned down PFLAG's request.
As a result, Ambridge became the target of a widespread media campaign accusing it of discrimination and it lost many of its long-time clients as well as new business. Ambridge claims in its lawsuit that after it hired an openly gay events coordinator--in an attempt to demonstrate that it was friendly to the LGBT community--Holy Rosary Church terminated the contract and ended their business relationship in retaliation.
In this case PFLAG chose not to file a lawsuit against the church for discrimination because they believed that the church was protected under state law and could not be compelled to rent their space to those who were not in keeping with their moral code.
Logically, the suit brought by Ambridge may fail on the same grounds, unless the court finds that the church breached its contractual obligation with Ambridge to amicably settle disputes and attempt to mediate contract termination.
Rod Dreher with the publication The American Conservative, foresees that this will not be the only such assault on churches and their religious freedom, "If an LGBT activist group targets a private business for working with a church it considers to be anti-LGBT, and its campaign results in that business going under, will the business owners take the church to court seeking damages?" Clearly that is what has happened in this case since the church is protected from legal assault by LGBT groups, nothing protects Ambridge from their media attack campaigns and a loss of business.
The Sweet Cakes bakery owned by Aaron and Melissa Klein, now out of business due to damages it was forced to pay to a homosexual couple, recently lost the appeal of their case and in that appeal, the appellate court commented in its decision, "The Kleins seek an exemption based on their sincere religious opposition to same-sex marriage; but those with sincere religious objections to marriage between people of different races, ethnicities, or faiths could just as readily demand the same exemption."
In this case, behavior that is sinful and contrary to religious belief is being equated to inherent characteristics such as race. Barring whether Holy Rosary Church may prevail in its legal defense for its status as a religious organization, but with continued assaults on both personal religious freedom and religious organizations, this may not be true forever.
In the recent decision of Masterpiece Cakeshop in Colorado, another bakery that refused to bake a cake for a same-sex wedding, the Supreme Court ruled that freedom of expression trumped the plaintiffs' rights against discrimination. But for all those who herald this case as a win for First Amendment rights, it warrants a closer reading of the decision that narrowly focused on the message written on the cake.
The Supreme Court declared that if the couple had refused to bake any cake due to their beliefs, they would be held liable for discrimination, but they could not be forced to produce a specific work of art (the cake) that expressed a message contrary to their religious beliefs.
Based on this judicial opinion, in the Masterpiece Cakeshop case written by Justice Kennedy, the way is clear for churches to be swept up in this tide of "anti-discrimination" fervor as well. How long until churches in the US are forced both to host and to conduct homosexual marriages (which already occurred in Denmark) or be forced to submit to monitoring and licensing to operate, which already occurs throughout the Muslim world and in China?
The LGBT activist groups and their media power in Portland have done more damage than the courts by driving Ambridge Event Center out of business, but pressure continues to mount on both churches and all those affiliated with them to accept the gender-radicals' agenda.
---