Next Year In Jerusalem? Last Ethiopian Jews Look To Return, Fulfilling Prophecy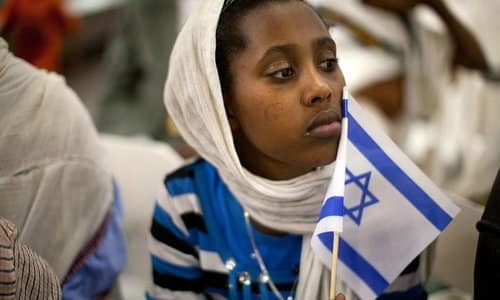 By Maayan Hoffman/Breaking Israel News
July 07, 2018
Share this article:
---
The regathering of Israel is an often-repeated prediction of the Bible, mentioned in a multitude of passages.
For instance, in Isaiah 11 the prophet states, "In that day, my Lord will apply His hand again to redeeming the other part of His people... He will hold up a signal to the nations, and assemble the banished of Israel, and gather the dispersed of Yehuda from the four corners of the earth."
"It is a basic Biblical premise that the Jews should be united in Israel," explained Rabbi Eliezer Waldman, an Israeli Orthodox rabbi and former politician who served as a member of the Knesset. "For Jews, this commandment is no different than keeping Shabbat or the Jewish holidays."
Waldman said the re-gathering of the exiles is part of the promise of the prophets beginning with Moses until the last.
"It is God's will," he said.
Waldman is among a handful of Israeli religious leaders who strongly advocate for the immediate return of the last 8,000 Jews from Ethiopia to Israel. Today, he is working closely with advocates such as A.Y. Katsof, director of
The Heart of Israel
program, to raise awareness and funds to "bring the last Jews of Ethiopia home," as Katsof put it.
"We are being given the opportunity to take part in this re-gathering of the exiles and that is so special," Katsof said.
Katsof, who recently
raised $25,000
mostly from Christian supporters of Israel to start the process of bringing these Ethiopians to Israel, has also gotten buy-in from the heads of Samaria's two largest municipalities, who expressed willingness to resettle these Jews in the Biblical heartlands.
Katsof said that if someone would have said in the early 1900s that all the Jews of Europe would come to Israel, people would have considered the person crazy - even if one looked at the Biblical verses that reference such an ingathering.
Then, there was the Holocaust.
"Today, it is Jews from India, China, South America, North America," said Katsof. "They are gathering in Israel from the four corners of the earth. These are the 10 lost Jewish tribes.
"The Bible promises in so many places that this would happen and now it is happening," he said. "It is prophecy being fulfilled."
However, the prophecy cannot be completed, as the last Jews of Ethiopia have not been able to complete their journey home. Although in 2015 the government decided to bring the last Jews of Ethiopia to Israel, it has not yet funded or implemented this decision.
In the last nearly 30 years, some 50,000 of these Ethiopians have moved to Israel and today they make up around 50 percent of the Ethiopian Jews in Israel. The Ethiopian Jews that remain in Gondar and Addis Ababa are family members who were separated from their loved ones who succeeded in making Aliyah while they did not, in part because the government questions their commitment to Judaism.
"They go to synagogue, learn Hebrew, follow Jewish law as they understand it and, most importantly, long for Zion," Waldman said, noting that the late Chief Rabbi of Israel, Rabbi Ovadia Yosef, maintained that the Jews of Ethiopia are as Jewish as any other Jews, even though when Ethiopians move to Israel they do a "just-in-case" conversion (giur lechumra in Hebrew).
"'Next year in Jerusalem,' they repeat," Katsof said of the Ethiopian Jews in Gondar and Addis Ababa, where he recently visited. "When they see a bird flying north, they say, "'Say hi to Jerusalem.'"
Katsof said when he arrived in Ethiopia, he saw a Jewish community that was following a "pure, untouched" form of Judaism.
"You see Jews in huts, no power, no running water, no outside influences," he said. "For 2,000 years they lived by springs they called mikvehs (Jewish ritual baths) and brought offerings to God."
Today, the last Jews of Ethiopia suffer from severe poverty, making it as Waldman explained, "a basic humanitarian and Jewish duty to bring them to Israel."
Abere Endeshaw is a young man from Ethiopia who is right now learning at the Drisha Institute in New York. He said that in Ethiopia he lives with his five siblings and parents in a single room where they cook and sleep. The house is made of mud and straw.
Ethiopian Jews don't eat meat, Endeshaw said, because the local kosher butcher made Aliyah a few years ago and today there is no kosher meat provider.
"I believe as a Jewish individual we all need to be in our promised land, which will make our religious activities and connection to God easier," Endeshaw said.
---