Franklin Graham vs UK LGBT & Islamic Activists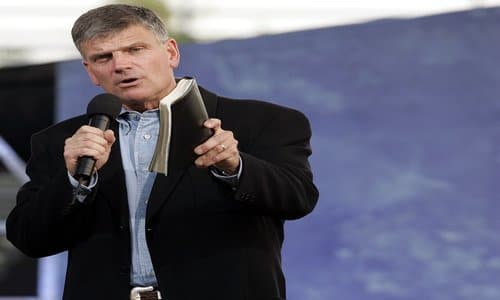 By PNW Staff
July 19, 2018
Share this article:
---
Franklin Graham is scheduled to lead the Lancashire Festival of Hope at the Winter Gardens Blackpool in the UK from September 21-23, but that booking is now being threatened by extremist LGBT and Muslim voices.
With accusations of homophobia and Islamophobia, these activists want the city council of Blackpool to cancel the event and are calling for the UK's Home Office even to deny Graham entry into the country.
Bus advertisements for the event have already been pulled in the city of Blackpool. A spokesperson from the bus company told a local paper, "Blackpool Transport has recently been made aware of an advert in place on the side of some of our double decker buses.
In light of customer feedback and reactions on social media which has resulted in heightened tension, we have taken the decision to remove all adverts relating to the 'Time of Hope' Festival with immediate effect."
The festival has no anti-gay or anti-Islam focus but is instead, as Graham points out in interview with Premier, focused entirely on Christian evangelism. "I'm not coming to preach hate. I'm here to preach about a Savior, Jesus Christ, who can make a difference in our lives if we put our faith and trust in Him."
Graham has courted controversy in recent years by advocating for Biblical stances in defense of marriage, by speaking out against the evil committed in the name of Islam by groups such as ISIS and for supporting traditional moral values. It is a strange alliance indeed that finds LGBT radicals lining up next to Muslim hardliners, men not known for their respect for the homosexual agenda, to oppose the free speech rights of a Christian pastor.
The City Council of Blackpool has publicly stated that it intends to honor the contractual obligations it has in the booking for the festival... unless it decides that it doesn't want to. Making a show of balancing the right to free speech with that of protecting British subjects from discrimination.
Councillor Maria Kirkland told the press, "We want to tackle discrimination, promote equality and increase respect and understanding between people regardless of their race, religion or sexual orientation." When pushed to label Graham's Christian beliefs as outright criminal, she dodged the question by saying that "decisions in law, over the nature of Franklin Graham's reported comments and whether or not they constitute incitement to hate, a criminal act in the U.K., are entirely matters for the Home Office."
But in order to remove all doubt, she ended the interview by saying that if it is determined that Graham encourages hate, the booking will be "terminated without hesitation."
The right to free speech is no right at all if every comment that fringe groups disagree with can be labeled as discrimination and thereby criminalized. Is it not ironic that the UK allows in vast waves of Muslim 'refugees' that hold no love for homosexuals, Jews, Christians or Western culture and yet it is a Christian pastor who is threatened with being banned from the island entirely for his Biblical views? Or that LGBT activists are free to slander Christian pastors and label them as bigots?
Public activism campaigns that label conservatives as bigots is the first step while legal challenges, even nationwide bans, are the next step. It is far easier to win arguments, the left has found, when all you have to do is shout, "bigot!" over any words of reason, compassion or wisdom from the other side. In this case, Graham is counting on the support of UK religious organizations and churches to make the gathering a success.
A spokesperson said in an Interview with the Christian Post, "The Billy Graham Evangelistic Association is working in partnership with local churches to hold an event in Blackpool. It will be a positive and encouraging event with music and a message from Franklin Graham about the hope that can be found through a relationship with Jesus Christ. It will be free and everyone is invited to attend."
Graham addressed his accusations of homophobia directly when he delivered a powerfully Biblical rebuke, "God calls homosexuality sin -- take it up with Him if you don't like it. He is the one who defines sin, not me. As a Christian, of course I don't hate gays. I love them and want them to know the truth. If they choose to live that lifestyle, they certainly have the freedom to do so in this country -- but don't tell me what I have to believe or participate in."
And that is the crux of the matter here. LGBT and Muslim activists are condemning a world-renowned evangelical preacher for being Christian. They are trying to cancel a Christian festival because it is Christian and deny Franklin Graham the permission to set foot on UK soil for his devout and Biblical Christian beliefs as he preaches love and salvation rather than hate.
Who is really peddling hate here?
---