Important Freedom Of Religion Cases Lose On Appeal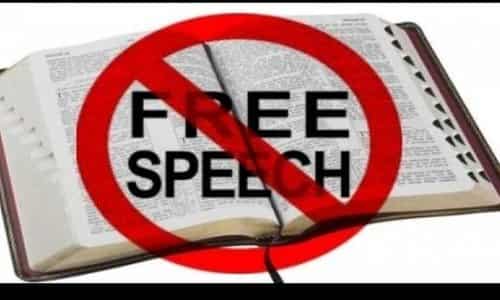 By Kade Hawkins
April 13, 2016
Share this article:
---
Are you ready to lose your job or be dismissed from school for your faith?
Christianity is being challenged at all levels to conform and compromise to the will of the majority. North Carolina is experiencing political and corporate pressure for upholding a Godly standard, but so are everyday Christians at school and work.
Two important cases were recently rejected on appeal as Christians fought for the right to share their faith and hold to Biblical convictions in the United Kingdom.
Felix Ngole, a Christian studying to be a social worker at the University of Sheffield, has lost his appeal against expulsion after he was dismissed from the school earlier this year for posting on his Facebook page messages in favor of Biblical marriage.
Felix was advised that his Facebook post "may have caused offence to some individuals" and had "transgressed boundaries which are not deemed appropriate for someone entering the social work profession."
Following additional meetings, the Sheffield committee concluded that Ngole's beliefs would negatively affect his "ability to carry out a role as a social worker,".
In his defense, Ngole commented that "Like every other student at university, I use social media to communicate and express personal views. In my Facebook posts in question, I simply expressed support for the Biblical view of marriage and sexuality."
Ngole appealed the ruling however the appeals office has defended the ruling and Ngole remains suspended from the school.
In a similar fashion, Victoria Wasteney, an occupational therapist working at the St. John Howard Center in London was suspended after her co-worker accused her of trying to convert her to Christianity.
Victoria had developed a friendship with her colleague Enya Nawaz, and in the course of time explored topics of faith and belief with her friend. During those conversations she had offered to pray with her colleague, invited her to church and gave her a book about Christianity.
These actions led to an investigation which concluded she was guilty of "harassment" and was wrong to pray with her co-worker, invite her to church and give her a book about her faith and was subsequently suspend from her job for 9 months.
Wasteney was granted permission to appeal the decision, but now a judge has agreed that Wasteney's employer was right to discipline her.
"What the court clearly failed to do was to say how, in today's politically correct world, any Christian can even enter into a conversation with a fellow employee on the subject of religion and not, potentially, later end up in an employment tribunal," Wasteney said in a statement.
These cases should shock Christians yet there has been very little outcry. Will Christians be banned from educational institutions for holding to beliefs that "cause offense" to others. Will we have our speech monitored at work to make sure we don't share personal information about our faith that could make others uncomfortable?
Educational institutions should be safe place where people can explore and challenge views without fear of retribution. Unfortunately the trend is to make sure no one is offended and thus free speech is being crushed at an alarming rate. Christians will no doubt find their views among the politically incorrect and should not be surprised if Felix Ngole is but the first of many to be banished for not holding to "proper beliefs"
Ngole himself warns of the dangers arising from his case: "My case raises all sorts of legal questions as to whether Christians can any longer hold traditional biblical and moral beliefs and still enter mainstream professions such as social work, medicine, teaching and law in this country."
Wasteney also sees a double standard being applied and doubts had the situation been reversed any of this would have happened. She believes the NHS singled her out for discipline because Christianity is so disrespected.
Wasteney points out that "previously a Christian worship service that I set up for patients was closed down, but accommodation for Muslims to practice their faith wholly facilitated and encouraged."
---