Church Sues Christian Company For Not Broadcasting Pro LGBT Message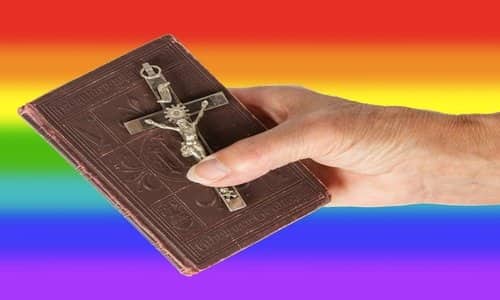 By PNW Staff
October 10, 2018
Share this article:
---
Windermere United Church of Toronto, Canada is suing Stephen Thompson's company Archer Mobile Signs under Canada's human rights law, and a second church, St. Paul's United Church, will likely soon join the lawsuit.
Thompson's crime was refusing to place Arabic messages supporting Islam and endorsements of LGBT pride on the sign he rents to the church. In no small example of irony, it is a church that is suing a private company for not embracing and broadcasting un-Biblical LGBT messages.
Windermere United Church has been a client of Archer Mobile Signs since 2012, with Thompson's sign company contractually updating the rented signs once a week during that time. Reverend Alexa Gilmour is known for her liberal stance on social issues and the church has had a history of supporting both interfaith outreach and LGBT rights.
She was rebuffed when she requested the message Ramadan Mubarak on the sign (Translation: the greeting Happy Ramadan in Arabic). Rev. Gilmour points out that the sign is one of the primary ways that the church demonstrates to the community that it is inclusive and welcoming to believers of other faiths and without such messages, Muslims in the community would feel excluded. "I don't know how I could post words of inclusion and love one week and then not stand against exclusion and hatred the next," she said.
Thompson, who actually owns the signs, told the church that he feared his signs may be vandalized if they carried that message in Arabic and suggested alternate messages such as "Wish your Muslim neighbor well," "befriend a Muslim" or "Invite a Muslim over for dinner". Rev. Gilmour accepted none of these and was shocked to hear in her exchange that Thompson would also not agree to put up LGBT pride messages either.
It was precisely his refusal to put up LGBT pride messages that caused a tiff with Rev. Daniel Benson of St. Paul's United Church in June when he refused to update their sign to read on its front "Happy Pride: The rainbow is God's promise of unconditional love for everyone," and on the reverse side, "Aboriginal Week of Prayer: AkweNia'Tetewáneren. All my relations".
Thompson requested to meet with Rev. Benson, wherein he explained that his religious beliefs did not allow him to put up a message that conflicts with the scripture and furthermore, that controversial messages risk inciting vandals to attack his signs. He claims that the rental of the signs was contingent on his approval of messages that would appear on them, and it will be for a court to decide if the contract includes this stipulation, thereby strengthening his case.
Thompson now faces a lawsuit for violating Canadian human rights laws for not using his signs to promote messages he does not agree with and which may put his property in danger. Once again, we are confronted by the issue of radical groups forcing others to support their views by obligating them to certain expressions of belief.
This is not an issue of freedom of expression as no one is preventing either church from using their own signs on their own property to express whatever beliefs they desire. Instead, a Christian company is being bullied into publishing messages that support other religions or lifestyles that are un-Biblical.
Western society must ask itself, should we be compelled by law to decorate cakes, sing songs and erect signs with messages that we find immoral or dangerous? Can and should we force others to support our views not just with tolerance and equal treatment but by forcing them to express those views in public?
No one questions that these churches have the right to freely express their views, even if we as Christians do not agree, but what right does either church have to force an outside company to publish those views and thus tacitly endorse them?
---