Can The US Avoid A "Space Pearl Harbor"?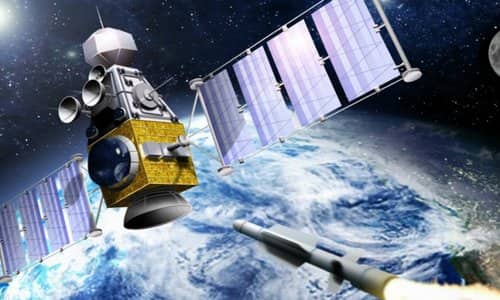 By PNW Staff
November 19, 2018
Share this article:
---
The United States is deeply concerned that Russian movements in space indicate the country is building an offensive military space force that could knock out American satellites.
Assistant secretary for arms control, Yleem Poblete, categorized the developments as both "unprecedented" and "very abnormal" as Russia develops both a combat laser system and specialized missiles that can be launched from an aircraft mid-flight to destroy American satellites. Both systems are expected to be operational in a few years.
The U.S. military depends on satellites for everything from gathering intelligence to guiding precision bombs, missiles and drones. The Air Force wouldn't be able to target, the Army and Marines wouldn't be able to navigate, and the Navy wouldn't be able to sail. The US has began to train soldiers and sailors to move without GPS but that will take quite some time to fully implement and still leaves all targeting assets dark.
Steve Isakowitz, CEO of The Aerospace Corp., a government-funded think tank that serves as the military's leading adviser on space said the U.S. can no longer afford to take its dominance for granted.
"That supremacy in space has enabled us to have the world's greatest war-fighting capability ... whether it is our soldiers on the field, our drones that fly overhead, our bombers that travel around the world, intelligence we collect," he told POLITICO. "More and more every day, literally, we become more dependent on it.
"And our adversaries know that." It is the old error of having all one's eggs in one basket.
A previous report by the Department of Defense warned that If the U.S. is to avoid a 'Space Pearl Harbor,' it needs to take seriously the possibility of an attack on the U.S. space system.
Some advances have been made to prepare for such conflict including President Donald Trump's recent call for establishing a "space force" -- a separate military branch responsible for ensuring American supremacy in space, a role now played primarily by the Air Force.
"My new national strategy for space recognizes that space is a war-fighting domain, just like the land, air and sea". He added: "We have the Air Force, we'll have the space force."
Russia's efforts to regain dominance in space provides a means of projecting power and is another way to show that they are back as players on the world stage.
President Putin has not been shy of boasting of his growing military arsenal.
"I want to tell all those who have fueled the arms race over the last 15 years, sought to win unilateral advantages over Russia, introduced unlawful sanctions aimed to contain our country's development: You have failed to contain Russia," Putin said during a national address.
It should then come as no surprise that Yleem Poblete, the U.S. assistant secretary for arms control has warned that the Trump administration will not sit idly by as Russia and others attempt to gain the advantage in the militarization of space.
"While the United States would prefer that the space domain remain free of conflict, it will prepare to meet and overcome any challenges that arise," Poblete said. As Vice President Pence recently noted, "Our adversaries have transformed space into a warfighting domain already. And the United States will not shrink from this challenge."
"The United States will not support various treaties proposed by the Russians to limit space militarization at a time when they are behaving in the opposite manner", Poblete added.
The Trump administration has also warned, "Any harmful interference with or an attack upon critical components of our space architecture that directly affects this vital U.S. interest will be met with a deliberate response at a time, place, manner, and domain of our choosing."
---