Gallup Poll: Majority Of Americans Continue To Support Israel Over Palestinians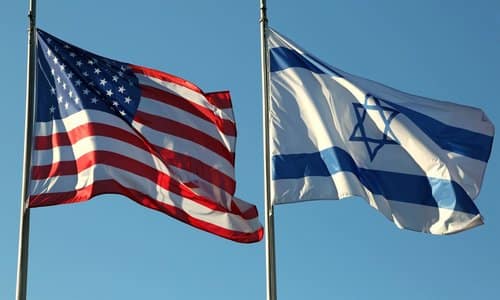 By Ben Cohen/Algemeiner.com
March 18, 2019
Share this article:
---
A comfortable majority of Americans continue to sympathize with Israel over the Palestinians in 2019, according to the annual World Affairs survey published on Wednesday by top polling firm Gallup.
"Americans' overall views toward Israel and the Palestinian Authority have changed little in the past year, with roughly seven in 10 viewing Israel very or mostly favorably and two in 10 viewing the Palestinian Authority in the same terms," a Gallup analysis of the poll stated.
The latest poll "finds a slight softening of Americans' partiality toward Israel in the Israeli-Palestinian conflict, particularly among moderate/liberal Republicans and, to a lesser extent, liberal Democrats," the analysis said.
Conducted during the first ten days of February -- nearly a month before the present row in Washington, DC, over antisemitic comments made by Rep. Ilhan Omar (D-MN) in relation to US support for Israel -- the poll also showed that Americans remain largely unmoved by the Palestinian case against the Jewish state. "Twenty-one percent view the Palestinian Authority favorably, identical to last year and similar to the finding most years since 2010," the Gallup analysis said.
Gallup's figures for 2019 reveal that 69 percent of Americans have a "mostly" or "very" favorable view of Israel; in stark contrast, 70 percent hold a "mostly" or "very" unfavorable view of the Palestinian Authority.
Fifty percent of respondents said that they would support the creation of an independent Palestinian state "on the West Bank and Gaza Strip," with 39 percent opposing it, while a majority -- 55 percent -- did not regard the conflict between Israel and the Palestinians as a "critical threat" to US security.
In political terms, support for Israel remains highest among "conservative" Republicans, followed by "moderate/liberal" Republicans, "moderate/conservative" Democrats and lastly, "liberal" Democrats.
"Nearly as many liberal Democrats now sympathize more with the Palestinians (38 percent) as with the Israelis (41 percent), with the rest favoring neither side or unsure," the analysis said, before emphasizing that "all groups, including liberal Democrats, have maintained a largely favorable view of Israel since 2001."
---