Regulating Religion Out Of Private Universities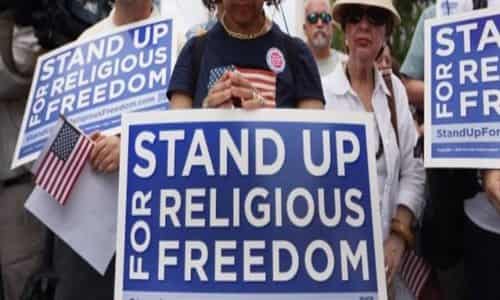 By PNW Staff
June 27, 2016
Share this article:
---
Private education in California is about to suffer a serious change if the Democrat supported Senate Bill 1146 passes into law. It stands to prohibit much of what defines a faith based university due to the need to create a "safe space" for all students.
Christian educational institutions are vehemently opposed to the bill, saying it would mean that "they would no longer be able to determine for themselves the scope of their religious convictions as applied in student conduct policies, housing and restroom/locker facilities, and other matters of religious expression and practical campus life," according to the website Oppose 1146.
The proposed policy would also make Christian colleges and universities open to anti-discrimination lawsuits and government supervision.
The bill has already passed in the California State Senate and the Assembly is set to consider it for a vote next in what some are calling an attack on both educational and religious freedom, all in the name of protecting the LGBT community.
Senator Ricardo Lara, the author of Senate Bill 1146 stated, "All students deserve to feel safe in institutions of higher education, regardless of whether they are public or private. California has established strong protections for the LGBTQ community and private universities should not be able to use faith as an excuse to discriminate and avoid complying with state laws." The only exception to the law would be schools that directly prepare students for pastoral ministry.
John Jackson, President of California's William Jessup Univeristy responded by saying "The passage of this bill would destroy the foundation upon which this university was founded. Systematically discriminating against religious institutions and preventing student access and choice to Christian higher education is bad policy and will have a negative effect on the state of California." He was not alone among university voices opposed to the bill.
Lee Wilhite, Vice President of University Communications at Biola University, expressed his concern with the law as well: "It functionally eliminates the religious liberty of all California faith-based universities. It really does infringe on how we carry out our mission."
Under the guise of anti-discrimination, California Democrats are threatening to impose their views on all universities and limit a students' ability to attend a university that accords with his beliefs.
Several schools have declared their intention to defy the law and take the issue to Supreme Court while other schools have formed a coalition to seek a religious exemption in the bill. Jackson frames the stance of his school clearly when he states, "We are not willing to change our policies. There is a very intentional attempt to marginalize those who don't accept the notions of sexual orientation and gender identity as the government has framed them."
The obvious answer to protests of discrimination based on faith at faith-based universities is far too logical to be put into practice of course.
If you are not Jewish, you are not obligated to attend a Jewish university. If you are not Christian, feel free not to apply to a university based on Christian values and if you aren't Muslim, you might want to cross Islamic based schools such as Zaytuna College off your list.
It isn't as if there weren't a plethora of choices available in California; of the state's 281 accredited universities, only 42 are Christian faith based institutions. If your beliefs don't align with any religious faith, you still have the majority of the universities in the state to choose from.
As was the case with the high school restroom gender discrimination debate across the country in which the federal government threatened to withhold federal funding, the government is using the power of the purse to compel action as well.
In addition to specific lawsuits for noncompliance, the State of California would cut off student aid funding to faith based universities that do not fall into line with the new regulations.
The First Amendment to the Constitution states that "Congress shall make no law respecting an establishment of religion, or prohibiting the free exercise thereof" and for some it is hard to see how Bill 1146 doesn't do both, establishing a religion of secular humanism while banning the free practice of all others.
Progressive California may be the first, but it likely won't be the last to try to pass such laws.
The Council for Christian Colleges and Universities warned that the bill could set a precedent for Christian colleges across the U.S.
---