The Internet At Risk: New Efforts To Censor Free Speech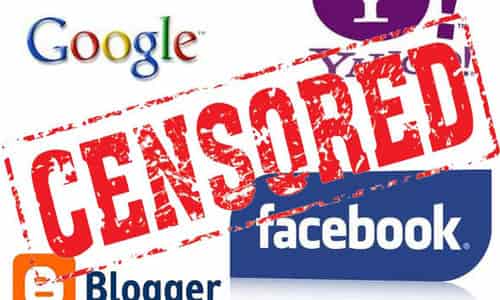 By PNW Staff
July 06, 2016
Share this article:
---
The Internet is central to the lives of much of the world's population now and a free flow of information is a large part of the success of the developed world. If the idea of a decentralized network of information sources free from censorship and official control seems utopian, that's because it is.
China's censorship of the Internet is well known, as is the use of copyright law to censor the Internet for corporate interests in the United States. Countries such as Pakistan block YouTube for reasons of religious censorship.
Iran, a longtime opponent of Internet freedom, tried building its own national Internet isolated from the rest of the world. No one doubts the severe censorship imposed on the people of North Korea either, nor would they bat an eye when they read that both Ethiopia and Malaysia are enacting harsh new laws to restrict freedom on the Web.
Few are surprised that Turkey has once again jailed journalists and bloggers but European countries, long a bastion for free-thinking and post-modern discourse where all views are accepted, are now turning out to be more like China than anyone gave them credit for.
Two principles drive European censorship and restrict information on the Internet: the right to be forgotten and the prohibition against hate speech. With a legal requirement to remove information than could be uncomfortable or embarrassing combined with a prohibition on speech that could be considered offensive, Ray Bradburry's novel Fahrenheit 451 is looking more plausible every day.
The "right to be forgotten" is a distinctly European legal concept that has only emerged in the past few years as people began to realize that what they post on the Internet can be reposted and circulate forever, often beyond anyone's control.
Those political statements you made ten years ago in college might come up on a search when you look for a job. What you believed at the age of nineteen may come to represent you for the rest of your life, and it was from this reasonable argument that the "right to be forgotten" was born.
It has since been used to demand that corrupt politicians and business leaders have public reporting of their crimes forgotten, as in the case of Merrill Lynch's CEO Stanley O'Neal. BBC articles on O'Neil's crimes were expunged by Google under the "right to be forgotten" law that requires companies to remove links to articles that come up when searching a name.
The prohibition of hate speech, or any speech that could be perceived to cause community disharmony for that matter, came to the forefront again when the European Union introduced a code of conduct pledge to which companies such as Alphabet (Google), Microsoft, Facebook and Twitter have agreed.
The companies will enforce prohibitions on hate speech, though the interpretation of the term is dangerously vague, and help European governments to limit online views that do not serve the community interest.
This represents a clear limitation on freedom of speech since it isn't really free if only the official, government approved opinion is acceptable.
The definition of hate speech is purposefully vague with numerous cases of censorship already being reported regarding crimes allegedly committed by newly arrived immigrants in Sweden, Germany and England.
The new "code of conduct" signed by the largest tech companies takes the effort one step further however. It includes a new measure that requires a promise from companies like Twitter and Facebook that they will "educate" and "inform" their users as well as "promote" EU approved "counter-narratives".
What does this mean? If there is a narrative that Syrian immigrants are behind a recent crime wave co-incident with their arrival in certain areas, Facebook will be required not only to block stories that contain accusations but also actively promote stories that further the narrative that there is no crime wave, since that is the desired political message. It is political correctness run amok!
Sounding uncannily akin to the Chinese mandate to ensure community harmony on the web must not have been a concern for the European officials who drafted the code of conduct.
While machete attacks on bloggers in Bangladesh are a graphic reminder of censorship in the Third World, the European code of conduct may prove even more powerful at shaping the culture and in the end, more stifling in its effect on free discourse.
---