Muslim Converts To Christianity Face New Challenges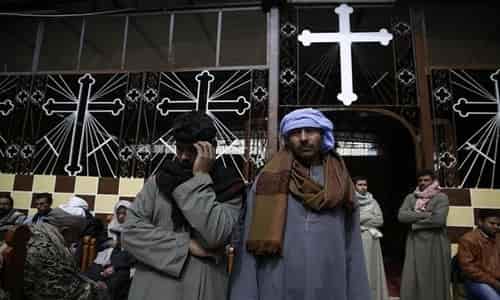 By Tom Olago
July 30, 2016
Share this article:
---
One would think that with all the hatred and persecution targeting Christians all over the world, Christian numbers and commitment would be dwindling fast. Instead, Christians seem to become more invigorated and faithful through the oppression and harassments they are forced to endure.
Perhaps the most notable example of this is among those Muslims who hate Christianity and consider it an infidel faith to be suppressed or defeated at all costs. Examples of this abound throughout the world.
Just as in many other countries where the population is dominated by a Muslim majority and government, Christians in Bangladesh are at risk of being killed or persecuted because of their faith in Jesus Christ.
And yet, according to a recent Christian Post article by Samuel Smith, even though persecution against Christians in this South Asian nation is on the rise, so is the number of Muslims converting to Christianity.
Smith further notes that, although nearly 90 percent of Bangladesh's population of 165 million people is Muslim, Christianity is gaining traction. The number of Christians in Bangladesh is estimated at 1.6 million, which represents roughly 1 percent of the country's total population.
According to the human rights organization Christian Freedom International, it is estimated that as many as 91,000 Muslims across Bangladesh have converted to Christianity in the last six years, even though apostasy in many Muslim cultures is punishable by death.
Pastor Faruk al-Ahmed, a Christian convert from Islam who has been preaching since the mid-1990s, personally attested to the rise of Christianity in his own community in Northern Bangladesh.
"When I began my ministry in Kurigram, there was only one traditional Christian family and one Muslim background family," pastor Faruk al-Ahmed Northern Bangladesh explained in an interview with the British news site Express: "Now, almost 1,500 believers from Muslim backgrounds are glorifying God in this area and more persecution will come but the believers and I are ready to face it," al-Ahmed added.
Despite reports that Christianity is growing in the country, CFI emphasizes that Christians are forced to keep their worship activities secret to prevent "retaliations" for their faith.
A report from the Christian persecution watchdog ministry Open Doors U.K. ranks Bangladesh as the 35th worst country in the world when it comes to Christian persecution, and stated that nine churches were forced to close in 2015 due to security concerns.
Ironically, conversion is not forbidden by law, but pressure to recant the Christian faith will still be exerted by family, friends, and neighbors. Christians are pressured to give up their shops or businesses due to the pressure by the Muslim majority.
The Open Doors report also adds that converts themselves are frequently isolated from their families. In addition, registration of converts' children is problematic, as in most cases they are automatically registered as Muslims.
A report by Donna Edmunds for breitbart.com illustrates that these types of anti-Christian treatment are by no means limited to predominantly Muslim nations and that Christian churches are also actively involved in embracing ex-Muslims.
Edmunds presented the example of St. Marks church in Stoke-on-Trent: a typical English parish church that is presided over by Rev. Sally Smith. She observed that over the last three years St. Marks has undergone something of a transformation into a refugee processing center.
Committed to acting out her faith, Rev. Smith has in some cases housed asylum seekers in her own home, given them food, furnished them with clothes, bought shoes for their children, and looked after their medical requirements. Food parcels are handed out twice a week, language lessons are offered, and the recipients are given bus fare, if need be.
The result has been a wave of conversions to Christianity, as many as three or four a week on average.
Iranian migrant, Naziyar Morajabi, who has been in the UK for two years and has already been baptized, is one of the former Muslims who expressed bitterness that local mosques were not interested in helping him.
When I was homeless I went to the mosque and I asked them to let me stay for just two hours and to please give me some food, he said. I had nowhere to go. The leader of the mosque said I was not allowed to stay there as the mosque was not for sleeping in.
Nazia Parveen for the guardian.com reported that far from being isolated, Rev. Smiths story is a microcosm of what is happening across churches in Europe where a growing number of Muslim refugees are converting to Christianity.
However, some members of the local congregation at St. Marks have reportedly been less accommodating. Many have left, saying they feel alienated by the hundreds of new-look Christians, uncomfortable with the multicultural flags and incredulous at what they see as people taking advantage of Smith.
Rev. Smith concedes that some do convert solely because they believe it will help with their asylum application, but she says these are few and far between.
There are many other numerous personal harrowing accounts of what Christian converts endure. A recent example was the attack of a migrant, Amir H., who was attacked in a German refugee camp for converting to Christianity.
Katie Mansfield for express.co.uk recounted the case of the Afghan attacker, named only as Mohebolla A. He is alleged to have attacked an Iranian migrant with a baton knocking him unconscious and causing severe head injuries at a refugee camp in Hamburg, Germany.
Mohebolla allegedly called Amirs conversion a sin before launching the brutal assault. Security at the camp was forced to intervene as Amir suffered serious head injuries as he was beaten with a baton.
Mohebolla initially told an adult criminal court he was 22 but after facing a charge of attempted murder now claims he is 19 and says the victim hit himself with the baton. In Germany, defendants under the age of 21 can be tried in juvenile courts and receive lesser sentences.
Even children who dare to convert to Christianity have been known to face horrific consequences. Christian Deguit for Christiandaily.com reported on the case of a Muslim father in eastern Uganda who tortured his own nine-year-old son.
The boy, Nassif Malagara, was tied by his father to a tree that was set on fire causing the child to endure critical burns.
"My father then followed me and got hold of me and took me back to the homestead, where he tied me up to a banana tree. He went into the house and came back with a hot piece of wood. The banana tree had dry leaves, which caught fire and caused serious burns on my body," Nassif said.
The neighbors, fortunately, heard the cries for help of Nassif and untied him from the burning tree. Nassif was brought right away to a nearby hospital to have his burns treated.
In a separate report, C. P.s Samuel Smith recounted the story of Muslim-turned-Christian Nabeel Qureshi who recently revealed to thousands of Christians gathered on the National Mall that giving up Islam and accepting Jesus Christ was "the most painful thing" he ever did because it cost him nearly everything.
Qureshi, the author of books such as Seeking Allah, Finding Jesus: A Devout Muslim Encounters Christianity and Answering Jihad: A Better Way Forward, was given a few brief minutes on stage to address the massive crowd of believers gathered in the nation's capital Washington D.C, for Together 2016.
As a Muslim born to Pakistani immigrant parents in the United States, Qureshi's conversion to Christianity did not go over too well with his Ahmadi Muslim parents and his Muslim friends.
"When I became a Christian, it was the most painful thing I ever did. I wanted to die," Qureshi detailed. "I asked God to kill me because I lost my family. I lost my friends in the mosque. I lost all the people who loved me the moment I became Christian."
Despite the price he paid, Qureshi has found fulfillment and meaning in the Gospel of Jesus Christ:
"&There are billions of people alive in the world today who need to hear the Gospel," Qureshi continued. "If you are a Christian, it means you are going to live for eternity. It means that you are taken care of. If you trust in what Jesus did on the cross for you, you will be fine forever. But your neighbor who does not know Christ, his needs or her needs are infinitely greater than yours."
As terror-inspired violence seems to be occurring on a weekly, if not daily basis, around the world, Qureshi concluded by calling on Christians to become "world changers."
"We see what is happening in the world today. We see bombings in the Turkey airport. We see shootings in Orlando. We see people killing mindlessly across the world. God has a plan to heal this world," Qureshi stressed. "It can only happen through His hands and His feet and that is us.
That's why you are alive. To share this message and transform this world by the Holy Spirit living inside you."
---