Human Microchip Implants Gaining Greater Acceptance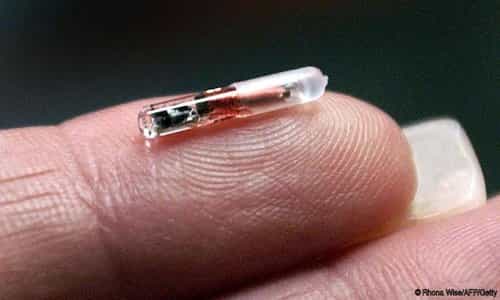 By PNW Staff
September 08, 2016
Share this article:
---
Once used for tracking pets and livestock, human microchip implants are now moving away from the fringe and becoming more mainstream.
There are now an estimated 10,000 people with RFID implants embedded in their bodies capable of sending out signals, but the rate of implantation has now begun to increase rapidly.
So why has a technology used to track and control animal populations now gained more widespread, and voluntary, adoption among young people around the world?
The first answer is convenience. In the same way that we agree to unlimited monitoring of our private communications through social media and cellphone networks in exchange for the convenience, people are beginning to prefer the advantages of simply waving a hand near a sensor to open a door or turn on the lights.
The chips, which are usually implanted in the hand, are about the size of a grain of rice and can be used to replace identification cards as well as interact with sensors that allow an implanted person to activate home electronics.
One woman from Sidney, Shanti Korporaal, now has two implants under her skin that allow her to access her work office and car without the use of keys.
When interviewed, she stated that her goal is to abandon the use of wallets and cards completely in favor of the implanted chips. She said, "You could set up your life so you never have to worry about any password or PINs."
She went on to explain that "With Opal, you get a unique identification number that can be programmed into the chip. Any door with a swipe card... it could open your computer or access your photocopier." The chips can interact with some smart phones as well to transmit identification, contact or even medical data.
In fact, the 27-year-old Sydney woman was so impressed by what her chip could do that when she realized how popular they were becoming, she decided to create a distribution service in Australia with her husband, Skeeve Stevens, that they named Chip My Life.
The chips cost only $80 to $140, and vary by the type of device a person elects to implant.
The low cost allows for a very economical entry level and kits are available to perform the minor procedure to implant the chips at home, though Chip My Life works with doctors who generally charge $150 to insert the chips.
In describing the procedure, she says, "They do minor surgery, Botox and so on. They give you a local, an injection and a quick ultrasound to make sure it's in place."
The mark from the implant looks like little more than a freckle on their skin and the couple has both an RFID (radio-frequency identification) chip in one hand and a NFC (near-field communication) in the other.
Apart from simple convenience, the chips are being marketed as a way to identify lost children, track felons, keep tabs on dementia patients and verify identity in war zones.
The US Navy has shown some interest in the technology and some companies are already using implanted chips as a way both to monitor and identify their employees.
A Swedish company has recently found itself in the headlines for allowing employees to use implanted chips rather than work passes and 400 workers have already taken them up on their offer.
Astute observers will note of course the similarity to a certain passage from the Book of Revelation that in the New King James Version reads, "He causes all, both small and great, rich and poor, free and slave, to receive a mark on their right hand, or on their foreheads."
In the next decade, as implanted chips become widespread and even normal, we will see the stage being set for this key prophecy to come to fruition.
In a cash-less world dependent on electronic funds, the verse that follows is all the more chilling in its absolute possibility now, "And that no one might buy or sell, except one who has the mark, or the name of the beast, or the number of his name."
Far removed from a simple tattoo possible a generation ago, this "mark of the beast" is designed to establish ID and conduct transactions as its primary feature.
The implants are not mandatory, so far, but then, neither are smart phones, credit cards or social media accounts, even though the great majority of people now have all of these conveniences.
In an increasingly digital world that sees privacy and freedom as quaint, outmoded concepts, there is little doubt that such implants will find ready acceptance.
Yet the potential for abuse with an invention originally intended for animal control is staggering. If this trend continues, the anti-Christ will have very little work to do when the time comes, because the herd will be ready, waiting and obediently chipped for his control.
---