Increasing Tensions Among Christians Over Israel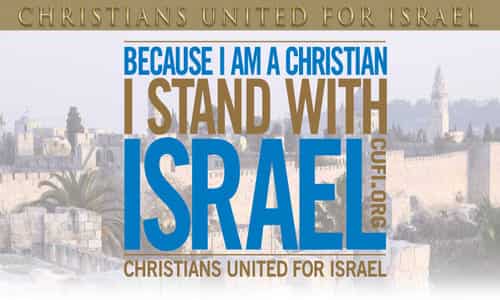 By Tom Olago
January 21, 2016
Share this article:
---
Calls for sanctions against Israel in support of the Palestinian cause are nothing new or strange rather, they have been the norm for about as long as Israel has existed and have gained a sustained momentum since the historic Arab-Israeli wars. Perhaps what is now stranger is that Israel is also increasingly facing opposition from sections of what was once the unlikeliest of quarters, the Christian Church.
Sharp divisions have arisen within the Christian community over whether to support Israel, pitting the pro-Israel Christian individuals and lobby groups against the anti-Israeli ones. One key battleground between the two opposing camps is whether Boycott, Divestment and Sanctions (BDS) campaigns against Israel are justified or appropriate.
Max Samarov is an ardent supporter of Israel and wrote an account of his efforts mid-last year in the Jerusalem Post. In his view, a common thread with the pro-BDS group is the notion that Israelis are powerful oppressors who deserve to be pressured and Palestinians are victims whose leaders dont require accountability - even if some of their resistance methods might be disagreeable.
The churches in open support include two major Protestant denominations: the Presbyterian Church (PCUSA) and the United Church of Christ (UCC).
In his account, Samarov adds that in June of 2014 PCUSA passed a resolution to boycott and divest from companies deemed "complicit" in Israels alleged misdeeds against Palestinians, and about mid 2015 the UCC passed a similar measure. In Samarovs words : "I was shocked to see people who should know better buy into BDSs cheap propaganda about the Palestinian-Israeli conflict, its blatant misrepresentations of its own agenda and its manipulative tactics".
BDS proponents have reportedly embraced a wide range of accusations against Israelis, such as claiming that they are subjecting Palestinians to "Biblical scale enslavement" and poisoning Palestinian livestock. Additionally, BDS activists seem not to be bothered with any verification of positions they take in their analyses of the Israeli Palestinian impasse.
"When BDS activists rail against companies involved in Israeli checkpoints, they dont suggest any practical alternatives to protect Israelis from those who seek to harm them. When they condemn settlements and the blockade of Gaza, they dont mention that ultimate goal of the BDS movement is not to change these policies but simply to pressure the Jewish state until it collapses. I expected that many of the highly educated UCC and PCUSA delegates would expose this utter lack of critical thinking, honesty and consideration for Israeli lives. I was wrong", decried Samarov.
He observed that all was not yet lost though, as the much larger Episcopal Church overwhelmingly rejected multiple BDS resolutions at its General Convention, and the Mennonite Church postponed consideration of similar measures until 2017.
However, indications are that the BDS drive is however still gaining traction. A recent report published in Haaretz.com stated that the pension fund for the United Methodist Church has blocked five Israeli banks from its investment portfolio, in what the report describes as a broad review meant to weed out "companies that profit from abuse of human rights". The pension board's decision came at a time when divestment is gaining momentum among liberal Protestants as a tool to pressure Israel over its policies toward Palestinians. Israel is quietly lobbying against the decision.
One the other hand, the pro-Israel group isnt backing down either. One of the most notable ones over the years has been Christians United for Israel (CUFI). CUFI Chairman and renowned Pastor John Hagee, in a 2012 CUFI conference, stated that "Supporting Israel is not a political issue, it's a Bible issue... There is only one way to live your life - the Bible way or the wrong way&can we support peace agreement that doesn't provide Israel with defensible borders? The green line is not a defensible border."
Many other Evangelical Christians are also openly coming out in support of Israel. Last October, Voice of America reported the gathering of thousands of evangelical Christians from more than 80 countries. They flocked to Jerusalem in late September to show their support for the Jewish state.
Attendees interviewed said their affinity for Israel stems from Christianity's Jewish roots and an anticipated Messianic Age when all nations of the earth will flock to Jerusalem. Evangelicals at the summit also boasted of their success at lobbying on Israel's behalf in the halls of parliaments around the world.
There are currently 32 pro-Israeli caucuses in parliaments worldwide, according to the Israel Allies Foundation, a Jewish-Christian pro-Israel political group that brought two dozen lawmakers from 18 countries to Jerusalem that week to meet with Israeli lawmakers and officials.
Pro-Israel initiatives continue into 2016. Last December, Dexter Van Zile for Charisma News reported that in response to the challenge of anti-Zionism in American evangelicalism, the Committee for Accuracy in Middle East Reporting in America (CAMERA) recenlty hosted a one-day conference in Los Angeles. The conference, that took place on Jan 18th was titled, "Evangelical Christians, Jews and Israel: Looming Threats To A Historic Friendship."
The goals of the conference were to educate both Christians and Jews about the campaign to divide evangelicals from Israel, promote awareness of the Jewish roots of Christianity, and inform people about the status of Christians in Israel.
One key difference between the pro and anti-Israel Christian groups is that the anti-Israel group does not appear to have any scriptural backing for their views. Yet a key Biblical reason for the widespread support for Israel by evangelicals is that God in the Old Testament chose Israel as His own covenant people, promising to bless those who bless them and curse those who curse them(Genesis 12:1-3). Or as Numbers 24:9 says: "He crouched. He lay down as a lion, and as a great lion. Who shall stir him up? Blessed is he who blesses you, and cursed is he who curses you".
So there is clearly a Biblical basis by which Christians should support Israel simply because God initiated that support and commands it promising to bless those who bless Israel and curse those who curse them. His choice of Israel is on the basis of His love, promises to their forefathers and covenant relationship with Israel (Deuteronomy 7:6-8), not due to their righteousness or lack of it.
Grossly overlooked or ignored by the anti-Israel factions is that Israels perceived weaknesses or alleged misdeeds can have no bearing on Christian support for Israel. Gods sovereign prerogative in His dealings with Israel, both collectively and individually should therefore not be usurped by any mans judgment or opinion especially Christians who have first hand instructions from the Bible on what Gods position is, and the attitude He expects of His children towards the Jews.
This doesn't mean that one must agree with every decision or action Israel takes but that one's heart and mind should be looking to bless and not curse. Clearly many in the Christian BDS community have forgotten this.
---