Fleet Of Android Robots To Begin Policing The Streets By 2017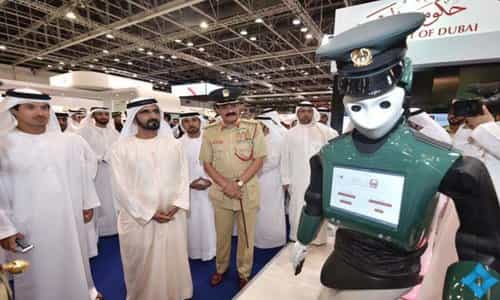 By Jake Anderson/theAntiMedia.org
October 24, 2016
Share this article:
---
According to a report from the Gulf Information Technology Exhibition (GITEX), a fleet of android robots will police the streets of Dubai as early as 2017.
Videos from Dubais annual computer and electronic trade show featured new prototypes of the robot shaking hands, saluting, and brandishing a touchscreen interface by which people can report crimes or pay traffic fines.
It is another indicator that we are fast approaching an age of automatic policing.
The robot cop prototype is able to scan faces, possibly serving as a new mobile street surveillance tool.
In the coming months, a team consisting of Dubai Police, IBMs supercomputer, Watson, and Google will improve the robots artificial intelligence technology so it can spot people from 10 meters or 20 meters away, approach them and greet them, said Dubai Polices Technical Innovations Department Head Major Adnan Ali.
Were expecting for it to be in tourist areas at first in 2017, near Burj Khalifa, GPR, City Walk and by 2020 we want to have a more thorough area covered.
Dubais android cops follow in a recent but frenetic tradition of automatic policing experiments being deployed by law enforcement agencies all across the world. Many were shocked by the weaponized robot drone that took out cop-killer Micah Xavier Johnson in Dallas earlier this year.
But the bigger surprise is how much robotic and drone technology has been integrated into our newly militarized police departments. There is a drone-catching drone in Japan, a riot-control drone in India, an Israeli rover bot, traffic robocops in the Democratic Republic of Congo and many others.
We are likely about to see a beta acculturation stage of militarized policing in which the general population is exposed to the reality of drones and android cops.
Once the shock of this wears off, you can expect full squadrons of robotic police equipped with state of the art AI technology and exoskeletons.
Truckers and KFC attendants arent the only middle-class American workers who will lose their jobs to automation cops are on the chopping block, too.
---