Magog Alliance Rising - Turkey Shifts To Russian Alliance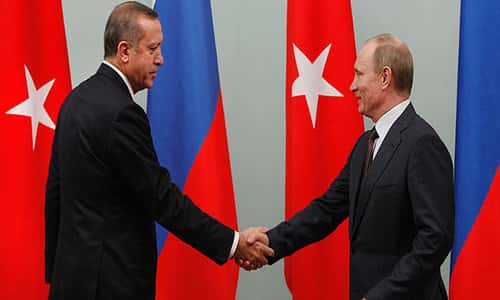 By Tom Olago
November 29, 2016
Share this article:
---
Turkey's half-century old EU membership bid is currently tottering on the brink of collapse, after the European Union's legislature asked the bloc to freeze membership negotiations with Turkey over the government's heavy-handed crackdown following a failed coup in July.
In response, President Recep Tayyip Erdogan has threatened to open Turkey's borders to allow migrants to reach the EU, a move that would tear up the landmark deal that has reduced the flow significantly.
Last year the continent experienced its worst refugee crisis since World War II, with more than a million people fleeing war and poverty to land on Europe's shores mostly via Turkey.
In a bid to stem the flow, Brussels and Ankara agreed to a $6.4 billion deal in which Turkey would take back migrants in exchange for money, visa-free travel and the opening of new chapters.
According to Weston Williams in a report compiled for the scmonitor.com, Turkish president Erdoan indicated in a recent interview that he was fed up with waiting for the European Union to accept Turkey as a member state, indicating that he would be willing to consider joining the Russia-led Shanghai Cooperation Organization (SCO) as an alternative to the Western bloc.
After more than a decade of negotiations, the president said that there was no reason to sentence Turkey to even more years of diplomatic wrangling just to become part of an international organization that has been consistently slow in welcoming Ankara into its ranks.
After the EU officially formed, Turkey applied for full membership of that organization in 2005, and has remained in negotiations ever since.
"Turkey must feel at ease," said Erdoan in the interview with Turkish newspaper Hurriyet. "It mustn't say 'for me it's the European Union at all costs.' That's my view....Some may criticize me but I express my opinion," said Erdoan. "For example, I have said 'why shouldn't Turkey be in the Shanghai Five?'"
The Shanghai Five is the old name for the SCO, which consisted of 5 members until Uzbekistan joined the political/economic/military pact. The five-country treaty was signed in 1996, largely thanks to Russia and China.
Could such a move actually materialize, perhaps triggered by a final fallout between the EU and Turkey over a spate of irreconcilable differences? If so, what would its significance be, if any, in the larger scheme of things?
Ricky Scaparo took a look at the Bible prophecy angle shortly after the attempted coup in July with an examination of what Turkey's role is and why it matters.
2,600 years ago, the prophet Ezekiel foretold of a time when a coalition of predominately Muslim Nations would gather together to invade the nation of Israel. This well-known conflict is known as "The War of Gog and Magog."
According to the book of Ezekiel, chapters 38 and 39, this confederacy of nations will attack Israel during a relatively peaceful period that appears to be generated by a recent conflict resulting in a "state of peace" for the Jewish nation.
According to the prophet, "After many days you shall be called. In the latter years, you shall come into the land that is restored from the sword, whose inhabitants have been gathered out of many peoples, against the mountains of Israel which had been always a waste. But its people were brought out of the nations, and they, all of them, are dwelling safely ... and you shall say, 'I will go up against the land of unwalled villages. I will go against those who are at rest, that dwell safely, all of them dwelling without walls and having neither bars nor gates'" (Ezekiel 38:8, 11, MEV).
The nations cited by Ezekiel are each referenced in the Old Testament, yet they all represent nations which exist today. Long before Russia became a major world power, most Biblical scholars identified Magog as the nation of Russia and Gog as the ruler of Russia. These other nations mentioned in Ezekiel 38 are:
" Magog (also said by other experts to include Meshech, and Tubal) = Russia
" Persia = Iran
" Cush = Ethiopia
" Put = Libya
" Gomer = Turkey (Some have identified as eastern Europe)
" Beth-Togarmah = Turkey (also said by other experts to include Armenia, and the Turkish-speaking people of Asia Minor).
The Bible indicates that in the "latter days" the Lord will put a "hook in the jaw" of these nations listed, including the nation of Turkey and, according to the prophet, "you shall ascend and come like a storm; you shall be like a cloud to cover the land, you and all your troops, and many peoples with you." (Ezekiel 38:9)
So Turkey will be significant in the near future in the context of Biblical prophecy. She will unite with several other nations and attempt to destroy the nation of Israel but will ultimately fail. So just what will befall these nations in that war?
Israel will not need to rely on America, Britain or any of her allies to defend her because God Himself will step into the scene spectacularly and overcome Israel's enemies through a mixture of several strategies: civil wars, pestilences, overflowing rain and hailstones, fire and brimstone (Ezekiel 38: 18-23).
There are other perspectives of how the Biblical prophecies could yet pan out with regard to Turkey. Britt Gillette for WND.com reported the views of Joel Richardson, New York Times bestselling author of "The Islamic Antichrist" and the director of the new teaching series "The Coming Battle for Jerusalem."
Richardson argued in July that the failed coup in Turkey would empower Islamism within the once secular country, leading to massive global consequences.
"Whether we are speaking of the role of the nations in last days Biblical prophecy, or merely examining current Middle East geopolitics from a secular analysis, understanding what is presently unfolding in Turkey is absolutely critical," Richardson told WND.
"For the past 20 years, American foreign policy has looked to Turkey as the model for what we would like to replicate throughout the region. Turkey, it was thought, was a model of success of a moderate Muslim nation."
As Richardson observed, the Turkish Republic was conceived by its founder as a deliberate counter-example to the problem of radical Islam. The military was specifically designated as the guardian of the Republic's secular basis.
Richardson suggests this process, though initially successful has finally broken down through a systematic but subtle and gradual takeover of Islamists. Their vehicle of choice was using the ruling Justice and Development Party (AKP), which Erdoan also used to crush dissent ruthlessly.
"When government protests broke out in Turkey in 2013, Erdoan led the charge to respond violently," Richardson recalled. He further condemned reports which portrayed the defeat of the coup as a triumph for "democracy." He observed AKP supporters did not chant slogans in support of freedom or liberty, but instead called "Allahu Akbar!"
"It is important to note that just ten years ago, shouts of the Arabic phrase 'Allahu Akbar' in Turkey, even among more Islamist Turks, would be extremely rare," said Richardson. "Turks pride themselves in being above the barbaric and uncultured Arabs. No more. The popularity of overtly Islamist sentiment should be deeply troubling to the whole world."
Richardson argues that (Christian) believers should be deeply concerned over these developments because there is an important prophetic significance to the rise of Islamist sentiment in what was once the Eastern Roman Empire.
"What is also fascinating to note is that within Islamic eschatology, there is a prophecy that says that Constantinople, (now called Istanbul) would be conquered by the Mahdi, not through military action, but simply through shouts of, 'Takbir' (Allahu Akbar)," Richardson told WND.
"Surely for the increasingly apocalyptically minded Muslim world, this prophecy may be seen as having been fulfilled in our midst....Turkey has fallen to the Islamists. Erdoan is one step closer to his goal of becoming the Caliph of the Muslim world."
Being passionately anti-Israel would certainly help him achieve that goal. Britt Gillette, founder of End Times Bible Prophecy cites a Jerusalem Post article quoting Erdoan stating that Israel should be barred from the United Nations: "How is such a country, which does not implement resolutions of the UN Security Council, allowed to enter through the gates of the UN (headquarters)?"
As Gillette also noted: "Yet today's headlines indicate a marked increase in friction between the nation of Turkey and its supposed ally Israel. As Islamic radicalism has enjoyed political success in recent years, Turkey is becoming more and more anti-Western in its foreign policy. And its hardline Islamic leadership's shared disdain for Israel may well be the deciding factor which drives it into the arms of the Gog/Magog alliance".
But doesn't Turkey's position in the NATO Alliance count for anything? Previously perhaps, but hardly anymore. According to David Romano for rudaw.net, Turkey's NATO membership also increasingly makes a mockery of the alliance's charter and places significant liabilities on the shoulders of other members.
Romano further pessimistically notes that today, in contrast, it seems increasingly clear that President Erdoan will never relinquish power. His purges and complete subversion of democratic institutions and individual liberties may take decades to repair, if ever.
Just the temperament needed for a ruler with enough dictatorial inclinations to potentially lead Turkey into rebellion against NATO and into the waiting arms of a Russian and/or Chinese-led military alliance.
Romano notes that the NATO charter lacks any provisions for expelling members, however, and such a public break is probably not in any member's interest. The better approach would be to disband NATO and put together something new.
American policy makers will protest that Washington can't afford to lose Turkey. This ignores the fact that they have already lost the Turks to Mr. Erdoan and his ilk - they just haven't officially left yet.
---