Christian Clergy Bless "Sacred Space" Of New Abortion Clinic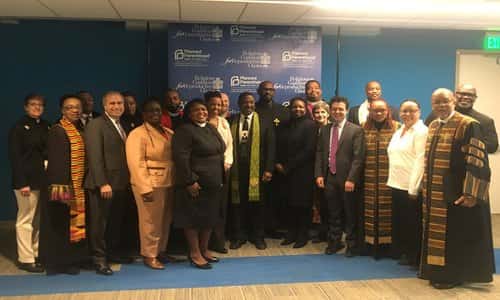 By PNW Staff
January 16, 2017
Share this article:
---
Christian clergy joined other religious leaders in celebrating and "blessing" the opening of a new abortion mega-clinic in Washington, DC, calling it "sacred work".
"In almost every message to our staff, I talk about our doing sacred work," Dr. Laura Meyers, president and CEO of Planned Parenthood of Metropolitan Washington, told news outlets. "This confirms the sacredness of the work we do."
The event was organized by the Religious Coalition for Reproductive Choice and Christine and Dennis Wiley, who lead Covenant Baptist United Church of Christ in Washington, D.C.
Christine Wiley pointed out that while Conservative Christians dominate much of the media, she was offering a "progressive voice" to counter the orthodox Christian understanding of abortion as the sin ofmurder, saying this is not her brand of Christianity and "it is far from representing the true tenants of the person of Jesus Christ".
The event included appearances by abortionist and former Baptist preacher Willie Parker, who commented "I've been a Christian longer than I've been an abortion provider, women have been made to think that this is some evil place, where God is not."
Parker denounced those who would criticize women for making "sacred decisions," referring to the choice to abort their children. "Our answer to the curse is to bless," he said.
Planned Parenthood medical director Serina Floyd said she plans to tell patients that the abortion facility is a "blessed space" and that "those of faith also support your decisions."
Breitbard previously reported, however, about a group of 26 leading black Christian clergy and intellectuals wrote an "open letter" during the elections to Democratic Presidential candidate Hillary Clinton, noting that abortion-on-demand has had a "catastrophic impact" on the black community in the U.S.
The black Christian leaders, including eight African American bishops, said that black babies "are dying at terrifying rates," and asked: "Don't black lives matter?"
In their letter, the leaders noted that the rate of abortion among blacks is far higher than among whites, with "365 black babies aborted for every 1,000 that are born."
"Blacks account for roughly 38% of all abortions in the country though we represent only 13% of the population," they said, citing statistics that have led black Christian leaders to speak of a "black genocide" occurring at the hands of abortionists.
In a sad twist of irony, the blessing ceremony ended by the group singing "This Little Light of Mine".
---