Bikers For Trump vs. Anarchists - Stage Is Set For Confrontation At Inauguration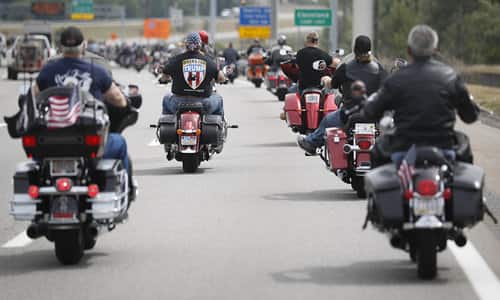 By Michael Snyder/Economic Collapse Blog
January 18, 2017
Share this article:
---
The stage is set for a potentially very ugly confrontation between radical leftist protesters on one side and law enforcement authorities and Trump supporters on the other side.
It is being estimated that hundreds of thousands of supporters will be arriving in D.C. to celebrate the inauguration of Donald Trump, but it is also being estimated that hundreds of thousands of people will be coming to D.C. to specifically protest the inauguration of Trump.
These protesters plan to set up blockades, disrupt inaugural balls and generally cause as much chaos as they possibly can. In fact, a spokesperson for #DisruptJ20 says that the goal of his organization is for Trump to be inaugurated "amid complete chaos"...
"We would like the headline the next day to be Donald Trump inaugurated amid complete chaos, not Donald Trump, inaugurated amid applause," said Legba Carrefour, who is an organizer with #DisruptJ20.
Needless to say, causing "complete chaos" is going to bring many of these protesters into direct confrontation with law enforcement. If these anarchists do what they say they are going to do, law enforcement personnel with be forced to physically intervene. The following comes from #DisruptJ20's official "call to action"...
Trump's success confirms the bankruptcy of representative democracy. Rather than using the democratic process as an alibi for inaction, we must show that no election could legitimize his agenda.
Neither the Democrats nor any other political party or politician will save us--they just offer a weaker version of the same thing. If there is going to be a positive change in this society, we have to make it ourselves, together, through direct action.
From day one, the Trump presidency will be a disaster. #DisruptJ20 will be the start of the resistance. We must take to the streets and protest, blockade, disrupt, intervene, sit in, walk out, rise up, and make more noise and good trouble than the establishment can bear.
The parade must be stopped. We must delegitimize Trump and all he represents. It's time to defend ourselves, our loved ones, and the world that sustains us as if our lives depend on it--because they do.
In addition to law enforcement, many Trump supporters have made it quite clear that they are not going to put up with physical obstruction or intimidation by radical leftists.
"Bikers for Trump" is one such group, and they are anticipating that 5,000 of their members will be attending the inauguration. According to Bikers for Trump founder Chris Cox, his organization is "prepared to form a wall of meat" if necessary...
"The bikers are certainly used to being outnumbered and we are prepared to form a wall of meat. We're anticipating a celebration here. We don't anticipate any problems. We have a strict code of conduct where we don't condone violence. But again in the event that we're needed, you can certainly count on the Bikers for Trump."
"We'll be shoulder-to-shoulder with our brothers and we'll be toe-to-toe with anyone that is going to break through any police barriers, that's going to be assaulting women, spitting on them, throwing things at them. We are anticipating a peaceful transition of power."
"The backbone of the biker community is the veteran. So these are guys that aren't really used to backing down. You certainly won't see bikers out there screaming, calling for destruction of private property or the death of police officers."
Tensions will be running extremely high in D.C. over the next week, and it isn't going to take much to spark a major incident.
On Monday, an incredibly shocking undercover video was released that shows three members of the Anti-Fascist Coalition talking about how they could potentially use butyric acid to disrupt an inaugural ball that is scheduled for Thursday evening. The following is from a Lifezette article about this undercover video...
"I was thinking of things that ... that would ruin the evening, ruin their outfits or otherwise make it impossible to continue with their plans. Make sure they get nothing accomplished," Green says in the video.
"If you had ... a pint of butyric acid, I don't care how big the building is, it's closing," says Kuhn. "And this stuff is very efficient, it's very very smelly, lasts a long time and a little of it goes a long way," Green chimes in eagerly.
These radicals clearly do not have any problem harming people in order to make a political statement. If you are not familiar with butyric acid, it is often used to create "stink bombs", but in higher concentrations it can actually be quite dangerous...
"Inhalation of butyric acid may result in soreness of throat, coughing, a burning sensation, and laboured breathing. Ingestion of the acid may result in abdominal pain, shock, and collapse. Physical exposure to the acid may result in pain, blistering and skin burns, while exposure to the eyes may result in pain, severe deep burns and loss of vision."
Just like Islamic terrorists, these radical leftists want to create fear and they want to get as much attention as possible.
One of the attention grabbing stunts that they have planned is to literally block people from getting to the inauguration.
If protesters are able to successfully block a few of the main roads and a couple metro lines, they literally will be able to paralyze transportation throughout the entire city. And according to one of the main organizers, this is precisely what they plan to do...
"Early in the morning, we're going to be doing blockades. We're going to be blocking checkpoints into the security zones. We're also going to be blocking roads and other modes of transit into the event."
"We are going to do everything we can from trying to stop people from being able to access the Inauguration."
The good news is that tens of millions of dollars is being spent on security, and officials are closely monitoring what these radical leftist groups are trying to do. So it is unlikely that the protesters will be able to completely disrupt the inaugural celebrations. The following comes from the Washington Post...
By week's end, the nation's capital will have transformed into a virtual fortress of roadblocks, fences and armed police. Streets will be barricaded with trucks filled with sand. Five Metro stations will close Friday. Crossing Pennsylvania Avenue will be next to impossible.
The peaceful transfer of power is made possible by overlaying a tight security grid using 28,000 security officials over 100 square blocks of prime downtown real estate -- from the White House to the Capitol and beyond, with a price tag in the tens of millions of dollars.
Let's hope that law enforcement personnel are able to keep the protests relatively bottled up over the course of this week, because the potential exists for things to spiral out of control very rapidly.
Sometimes there is a temptation to allow protesters a little space so that they "can blow off steam", but if scenes of chaos and violence start appearing on television there is a very real possibility that the streets of Washington D.C. could quickly come to resemble a war zone.
---