Hamas And Fatah Teach Next Generation For Terror At Summer Camps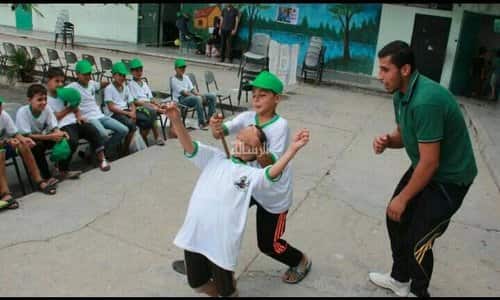 By PNW Staff
August 07, 2017
Share this article:
---
Fatah -- the political faction that controls the Palestinian Authority -- is running a summer camp for children that is named after an infamous terrorist, an Israeli research institute reported on Wednesday.
The camp, Palestinian Media Watch (PMW) said, honors Dalal Mughrabi, who took part in the 1978 Coastal Road massacre, in which 39 people -- including 13 children -- were killed.
Mughrabi died in a shootout with Israeli police at the culmination of the incident. Until today, the attack is the deadliest terrorist event ever suffered by Israel.
According to an Al-Hayat Al-Jadida article translated by PMW, a delegation from the PA Ministry of Culture recently visited the camp, which is located in the West Bank town of Yasuf.
"Educating Palestinian youth to see terrorist murderers as role models is Palestinian Authority policy," PMW charged.
In May, as reported by The Algemeiner, the UN and the Norwegian government distanced themselves from a Palestinian youth center named after Mughrabi, after it emerged that the building where the center was located carried the logos of UN Women and the Norwegian Representative Office to PA.
The same month, a PMW report found evidence that students at dozens of PA schools named for terrorists and Nazi collaborators "aspire to emulate" those who have committed violence against Jews.
Not to be outdone by Fatah - Hamas is running it's own summer camps for children.
Close to 120,000 Palestinian children will attend camps this summer run by Hamas.
The children will receive weapons and military training - including live shooting exercises -- in addition to indoctrination against Jews and Israelis.
Teens recently play-acted a scene of storming the security measures around the Temple Mount, stabbing and killing Israeli soldiers and "liberating" the Al-Aqsa mosque.
Several dozen youngsters prayed outside a makeshift "electronic gate" manned by teens dressed as Israeli soldiers and carrying mock rifles.
The group pelts the soldiers with paper rocks, and amid the ensuing attack, the announcer declares that "one martyr has fallen while carrying out a stabbing operation and killing one of the Zionist pigs."
As in previous years, graduation ceremonies where the children show off their "skills" will be held in front of Hamas officials.
Openly stating their goals to train the next generation of militants, Usama Almuzeyni, a Hamas official, said, "The movement strives, through the summer camps, to train an entire generation to work for the liberation of Palestine."
The theme of this year's camps is "To Jerusalem We Come." Almuzeyni said this was "to make it clear that Hamas faces one direction, and that is Jerusalem and occupied Palestine."
Meanwhile, a recently-released U.N. report noted that under Hamas' leadership, the Gaza Strip has become unliveable for its two-million residents -- between lack of healthcare, education, electricity and fresh water and declining incomes, reported Reuters.
"Across the board we're watching de-development in slow motion," said Robert Piper, a U.N. coordinator for humanitarian aid and development activities in Gaza.
If you want to know what a culture of hate and incitement to violence looks like, watch this video and meet our future Palestinian terrorists:
---