Final Assault Launched On ISIS; What Next?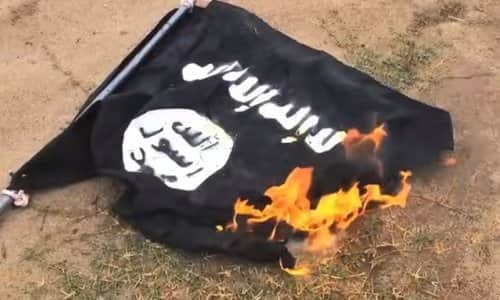 By Davod Harris/Clarion Project
October 10, 2017
Share this article:
---
Amid a limited degree of pomp, it was announced this weekend the final battle to defeat ISIS in Syria would begin on October 9.
That's great news after some five years of uncontrolled tyranny. The end of sex slavery, child soldiers and the cruelest of executions will be welcomed by all moral human beings.
However, the next issues - already under consideration by intelligence services for some time - are what happens to the hundreds of ISIS fighters who successfully flee justice and, of course, that burning question: Does the ideology die with Islamic State?
Let's go with the easy one first: The ideology is very much alive, and while it was successfully fueled by ISIS' brilliant propaganda machine, it is not dependent on the fate of Islamic State.
For starters, many of the so-called non-violent Islamist organizations around the globe are a breeding-ground network for terrorists.
Numerous researchers are convinced most terrorists were members of non-violent groups before carrying out their attacks or planned attacks. It's a message our own Raheel Raza recently took to Congress. We need to crack down on the non-violent extremists now.
Political Islam is where the messages are created; the resultant destructive actions are carried out by those willing to go just one step further. Radical mosques, schools, lobbying organizations are where it's at.
They are pushing for greater and stronger Islamization of the West, including the United States. And that is where the real battle lies.
So the answer to the question is simple: No, the ideology does not die with ISIS. It is very much alive. However, finding the solutions is proving extraordinarily illusive.
Let's consider the other issue for a moment: What happens to the ISIS fighters successfully escaping the battle zones of Syria and Iraq?
For many the first port of call is Libya. ISIS encourages its fighters to gather there. It's a country in free fall with not one but two failing governments and a plethora of Islamist organizations running riot in terrain that is hard to police.
Others are heading for the Philippines, Central Asia - the stans, while many simply go home.
Home can mean the U.S., Europe, Arab countries, Southeast Asia and beyond. In other words, wherever there is a strong Muslim community, particularly where political Islam is embraced, you will likely find highly-radicalized former ISIS fighters.
And that of course spells trouble for us in America and for many of our allies across the globe. We simply don't know when and where the next terror attack will be. And that is not to discredit intelligence and law-enforcement agencies.
Yes, they need more resources. Sure, they require more training. And absolutely, there needs to be far more coordination between them. But they are working 24/7 to find the bad guys.
The trouble is, there are lots of bad guys (and gals) out there who want nothing more than to kill us, our way of life and our belief system.
The defeat of ISIS in Syria and Iraq is of course welcome, but tragically it is just one tiny step into a minefield of terror and hate.
---