China On Verge Of Cashless Society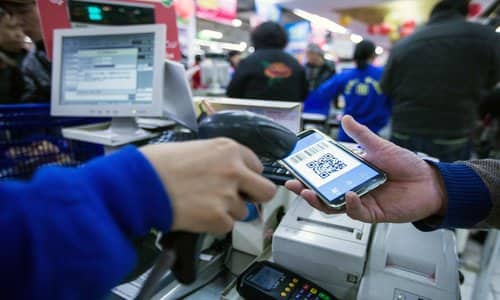 By PNW Staff
November 06, 2017
Share this article:
---
China is about to cross the threshold to becoming a cashless society. Though cash still exists, many Chinese today never touch paper bills or plastic debit or credit cards at all in their day to day life. Increasingly now, financial transactions in the Chinese economy are taking place through payment apps on smart phones. Watch special report below:
Imagine a leaving your house in China and hailing a taxi that you pay for by scanning a QR code on an app, buying food from a street vender again with a phone app, since no cash is accepted, then later going out for lunch by renting a bike just by scanning its QR code.
At the restaurant, just input the price of the meal into the app to pay again. On the way home, you may feel charitable, so you give money to a street beggar performing a song for money, again within the app, before stopping at a Buddhist temple where you can increase your karma by donating with the app.
The two most popular payment apps are WeChat Pay and AliPay. WeChat Pay is linked to the WeChat social network, a sort of Facebook on steroids that now connects nearly all Chinese in a network of social profiles, chat, shopping, payment, music, videos and a dozen other functions.
AliPay, an app created by Alibaba affiliate Ant Financial Services, is the other major player. Alibaba is the world's largest online shopping company (which dwarfs Amazon in size) and AliPay payments are accepted at tens of thousands of stores across China.
Ant Financial Services is linked to an online money market fund, Yu'E Bao, which encourages users to invest and spend with AliPay. Its 4% interest rates have transformed Yu'E Bao into the world's largest money market fund now with $217 billion by the end of June (1.43 trillion yuan).
Both payment apps allow Chinese consumers to send peer-to-peer payments directly between bank accounts as well, much like a fully integrated and easy to use version of PayPal.
It was not long ago when the West was debating whether China would ever enter the modern financial age by adopting credit cards en masse, but the Chinese were reluctant to take on personal debt. Now it would seem that China has leapfrogged the credit card era (and the huge debt burden many in the developed world now face) entirely with payment apps that both link directly to Chinese bank accounts and often provide attractive interest rates.
The Chinese are estimated to have spent $5.5 trillion through mobile payment platforms last year, at least 50 times what those in the US spent, and this continues to accelerate. Estimates are that this will quadruple by 2021 and, by next year alone, reports indicate that there will be as many as 45,000 stores in Japan that accept AliPay, to cater to Chinese tourists.
The phenomenon of bike rentals is just one example of an innovation made possible by these mobile payment platforms. Just two of the largest bike rental companies, Ofo and Mobike, have scattered more than 13 million GPS equipped bikes around the city.
One has to merely to scan the QR code, hop on and ride. When done, you can leave the bike by the street for its next user to scan, a feat made possible by app-based payment. Many experts point to this lack of point of sale equipment, expensive and vulnerable to hacking, that has allowed so many stores and restaurants quickly to adopt payment apps rather than credit or debit cards.
For foreigners without Chinese smartphones, payment app profiles or bank accounts, conducting any financial transactions at all has become difficult. But this fact also exposes the drawbacks of mobile payment platforms as an exclusive means of financial transaction.
Given that the Chinese government maintains control over both the Internet and bank accounts in China, as well as companies such as Alibaba and WeChat, Chinese citizens are surrendering every last vestige of privacy they once had.
Every financial transaction, no matter how minute or fleeting, is now tracked and logged. Every personal connection is recorded, and every account can be monitored in real time, or frozen, by the government. Dissenting opinions can be quickly pinpointed and dissenters can be easily closed off from all buying and selling.
Unable to rent a bike, hail a taxi, take a bus, or buy fuel for a car, they would be stranded. Unable to purchase food or other necessities at a store or restaurant, they would be starved into submission. In short, Chinese citizens, under the guise of convenience, are being forced into a system that surrenders total control to the state.
Yet there has been little to no debate or opposition to the adoption of mobile payment platforms. Those on the bottom care little for privacy and worry more about the convenience and security that such apps provide, e.g. from theft and counterfeiters. For these reasons, those in power are quick to herald in this new electronic system of total population control.
As can be seen from the passive indifference of the Chinese people, the Chinese model could easily be adopted by that world system the Bible foretells: "And he causes all, both small and great, rich and poor, free and bond, to receive a mark in their right hand, or in their foreheads: And that no man might buy or sell, save he that had the mark, or the name of the beast, or the number of his name." (Revelation 13.16, 17)
---