Harvest America Stirs Spark Of Spiritual Awakening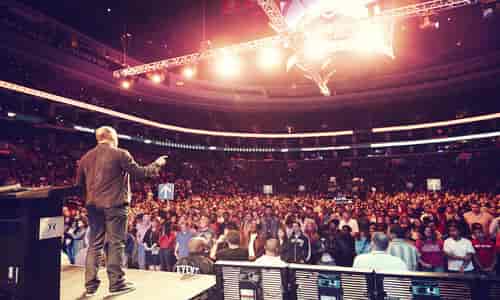 By Tom Olago
March 22, 2016
Share this article:
---
Amidst all of the doom and gloom of todays news headlines, it is easy to forget that God is still working in miraculous ways.
One such example of this occurred on March 6th at the AT&T stadium in Arlington, Texas. The record-setting evangelistic crusade organized by Harvest America and led by Greg Laurie of Harvest Christian Church in Riverside, California, drew more than 82,000 people
Affirming salvation through faith, Laurie underscored the insufficiency of religious beliefs for salvation. "Heaven is not for good people," he said. "Heaven is for forgiven people...Today is the day of salvation. Now is your time...Acknowledge that Jesus died for you. Repent. Change your direction. Hang a U-turn in the road of life, and go to God."
Those receiving counseling and prayer also received Bibles from Harvest America staff and volunteers.
There was no doubt how powerful the impact of the event was to everyone who attended or participated in some way. It was crazy awesome, said Shanai Slover a 26-year-old dental hygienist from Denton. Slover was among the 82,000 who filled AT&T Stadium.
"Frankly, I am overwhelmed at both the attendance and response - not only from the Metroplex but all around the country&To see the massive AT&T Stadium overflowing was indeed a sight to behold& Pastor Laurie said.
In the hour before Harvest America began, every allotted seat and standing area was filled, and officials locked the doors and asked the overflow crowd to stand outside the stadium and listen while watching the external large screens placed there.
Officials say the event was watched by more than 350,000 people in person or via live broadcast to more than 7,200 host locations worldwide, covering 123 countries across the world, including all of the United States.
In addition to the more than 80,000 who filled AT&T Stadium, about 180,000 participated in some type of venue that carried the broadcast, and about 90,000 viewed the webcast on Harvest Americas website.
The event was also broadcast live on 600 radio stations and on JUCE TV, a Christian network. All in all, about 25,000 people (at least 6,000 who attended the Arlington event and another 19,000 who watched the broadcast) reportedly made commitments to embrace the Christian faith after hearing Lauries message called The Good, The Bad, and the Ugly.
It was said to be the largest Christian stadium evangelism event in North Texas in 14 years. In 2002, about 255,000 attended the four-day Billy Graham Mission, an average of almost 64,000 for each service.
Larry Ross, who also accommodated the media at Billy Grahams stadium evangelistic meetings for more than three decades, said Harvest America was similar to a Graham mission because organizers used the latest technology to broadcast the event worldwide. Harvest America thrives on utilizing the Internet.
"Because of that extension [live streaming over the Internet], the audience in Texas was magnified more than five times," Ross said. "These are live audiences gathering in some type of host location and they are getting the signal. For example, we have a woman in our office whose church in The Colony carried it. They were a live link site that brought the signal into their church where they all gathered. They all watched it on a big screen and it reportedly was well received."
The interdenominational support and co-ordination was indeed remarkable. The Rev. Jack Graham, the senior pastor of Prestonwood Baptist Church in Plano who served as a key organizer, said a main reason Harvest America was successful was because more than 750 regional and local churches supported the event.
The aid from local churches included 3,400 volunteer counselors and a choir with 2,500 singers. SBTC (Southern Baptists of Texas Convention) churches numbered among those providing nearly 5,000 counselors and volunteers that evening.
"It proves that when the churches of the Metroplex get together, then great things can happen," Graham said. "I also believe that this can be a catalyst for increased evangelism at our churches. When you have a big day like this, people see what can happen. Their faith is stretched, and were able to look beyond the ordinary and see the extraordinary things that God can do when we work together."
The next Harvest America stadium event is scheduled for Sept. 24-25 at the Georgia Dome in Atlanta. "The idea is to use big event stadium or the arena, and then broadcast from there," Graham said. "Thats what happens and will happen in the future."
Meanwhile, Pastor Laurie has a vision for what should happen next. In remarks carried by the Christian Post, Kevin Porter quoted Lauries heartfelt remarks on this:
"We pray that each and every one of these individuals gets connected with a local church and begins growing in their faith, sharing what has happened to them with others in their circles of influence... that is our prayer for the ultimate impact of this event because that is how true revival begins."
In the account provided by Jane Rodgers for the Baptist Press, Prestonwood pastor Jack Grahams quote probably summarized the event outcome and its future potential best.
He said after the event: "Harvest America was exceedingly more than we could have asked for or expected&To see thousands streaming down to the field at AT&T Stadium after the invitation is a sight that will be etched in our memories forever. My prayer is that Harvest America will be a catalyst for a renewed commitment to evangelism by churches all over the world."
---