The End of European Christianity?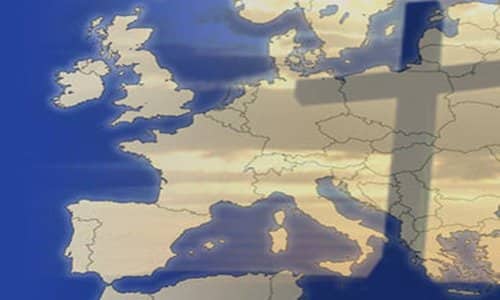 By PNW Staff
June 13, 2018
Share this article:
---
Christianity in Europe is under assault from all sides, from waves of Muslim immigrants and declining European birthrates to reduced church membership and the breakdown of traditional families. The much talked about rise of the "nones", or religiously unaffiliated, also reflects how this vision of a spiritually-empty postmodern Europe lost its way.
Europe is home to millions fewer Christians than a few short decades ago, but a new study from the Pew Research Center and research done by the British academic Stephen Bullivant both call into question the Christianity espoused by many Europeans.
The Pew Research Center conducted a telephone poll with 24,599 European adults selected at random. Just under 12,000 of those surveyed considered themselves Christians, though the rate at which they practice their faith is the first factor that the study considers. Not all Christians find the time to attend Church weekly or otherwise engage with their faith community, but for European Christians this lack of engagement is becoming all too common.
For this study, Pew set the minimum level of attendance at once per month to be considered a practicing Christian, a standard that is met by 18% of French and UK subjects, 28% of Austrians, 22% of Germans, 10% of Belgians, 9% of Finns, 9% of Swedes and 14% of Norwegians.
Unsurprisingly, Italy stands out at 40%, but even that is well under half for a country that is at the center of the Catholic Church. The median number of practicing Christians, across all of Europe, is a mere 18%. Non-practicing 'Christians', on the other hand, make up a median of 46% of the total European population and the unaffiliated 24% of all Europeans (other religions still account for less than 6% of the total, though these numbers are not uniformly distributed).
The 46% of Europeans who identify as non-practicing Christians is significant not only because their numbers continue to grow compared to practicing Christians, but because they hold beliefs that stand in stark contrast to orthodox Christianity.
They are overwhelming in favor of gay marriage and support abortion at a far higher rate than practicing Christians; two political issues that set them at odds with traditional Christian values.
On a more fundamental level, despite the fact that the non-practicing 'Christians' consider themselves to be Christian (91% baptized and 81% raised as Christian), they no longer believe in the God of the Bible.
Declaring belief in some numinous, spiritual force that fits their imagined belief of what they would like God to be, they most often reject the stories, events, lessons and message of the Bible. In essence, they occasionally dress themselves in the trappings of Christianity without encumbering themselves with any of the beliefs, theology or morality of the Christian faith.
Those who attend Church at least once a month do believe in the God of the Bible and, importantly, also pass this belief and the accompanying moral practices on to their children.
Those who are practicing Christians intend to raise children in the faith, as well, but there is little chance of that for those who are non-practicing Christians. Raised in homes that are Christian in name only, many from the coming generations will have only superficial contact with what is quickly becoming the religion of their ancestors.
European churches have reached a crisis point not only from outside but from within as millions of Christians drop out or drift away. They may still see churches as important to social cohesion and helping the poor, but for tens of millions they fail both in belief and practice for what the Bible describes as a follower of Christ.
Stephen Bullivant found that unlike generations past when the European norm was to identify culturally as Christian, despite differences of belief or affiliation, that societal custom is no longer acceptable. Now, the norm in many parts of Europe is to be unaffiliated and the religious increasingly see themselves as "swimming against the tide". As Bullivant points out, in many European countries "religiosity is no longer seen as normal or natural."
Bullivant's study looks disproportionately at younger Europeans, but this is precisely the demographic group that can indicate great changes to come. He believes that Christianity will survive into the next few generations, but with a much reduced core of true believers amidst an ever-growing population of non-believers and Christians-in-name-only.
Increasingly isolated, he predicts that Christianity will hang on in a Europe that has no place for their traditions, no place for their Christian morals and no place for God.
Footnote: of necessity, this article references a people-group identified as 'non-practicing Christians'. Please understand, as do we, that this is an oxymoron.
---