Israel Turns 68: Celebration, Growth and Challenges Ahead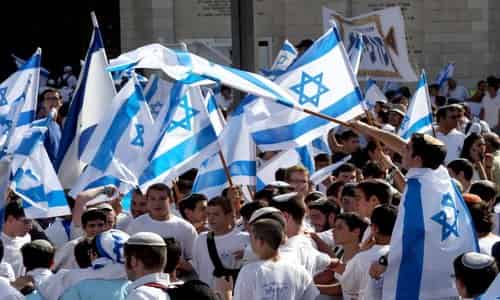 By Kade Hawkins
May 11, 2016
Share this article:
---
As Israel turns 68 it has much to celebrate despite daunting challenges ahead.
It's population has grown to 8.5 million, 10 times more than at it's rebirth in 1948.
In the past year alone it has seen it's population increase by 182,000 people, which includes some 36,000 immigrants arrive in Israel.
There are 6,377,000 Jewish Israelis, 74.8% of the total population, and 1,771,000 Arab Israelis, 20.8% of the population. Christians, non-Arabs, and other minority groups account for 374,000 people, or 4.4% of the population.
Among the Jewish population, 75% are Israeli-born, of whom more than half are at least second-generation Israelis. In 1948, however, just 35% of the Jews living in Israel were born in pre-state Palestine.
In 1948, there was only one city in Israel that had more than 100,000 residents -- Tel Aviv. Today, there are 14 cities with more than 100,000 residents and eight cities that have a population of 200,000 or more.
At the current rate of growth, by 2035 the population of Israel is estimated to reach 11.3 million people. There are now more Jews living in Israel than any other country, it passed the US 3 years ago, and it is estimated within 7 years there will be more Jews living in Israel than outside of it.
A recent poll indicates Israelis are happier than Germans, Irish, Brits and even Americans, but are less satisfied than Denmark, the happiest country in the world. The 2016 World Happiness Report seeks to quantify happiness as a means of making societies healthier and more efficient.
Iceland, Norway, Finland, Canada, Netherlands, New Zealand, Australia and Sweden round out the top 10, making small or medium-sized countries in Western Europe seven of the top 10 happiest countries.
Israel came in eleventh place, the same ranking it received in 2015, despite an uptick in violence, which has seen near daily stabbing, shooting and car-ramming attacks on Israelis. Almost all of Israel's neighbors find themselves at the bottom of the happiness rankings.
Israel will face several challenges in the next 12 months that could affect both it's growth and happiness ranking.
Some of those challenges include:
Palestinian Incitement/Daily Stabbings:
Although there has been a slight decrease in the number of attacks of late, they still persist, even on the day in which Israel commemorates it's memorial day to all those who have lost their lives to terror.
This past year has seen 32 civilians murdered in terror attacks with countless more injured, including two elderly ladies stabbed in Jerusalem's 'Peace Forest' at the time of this writing. One of the two is a Holocaust survivor.
Palestinian incitement which celebrates the murder of Jews is permeated through Palestinian culture and government. From school textbooks to music to social media - incitement for violence is celebrated from the highest offices of the land. This includes naming parks and streets after the terrorists and visiting the terrorist families to offer condolences and praise by the head of the PA - Mahmoud Abbas.
The problem is manifold as an entire new generation is growing up to brainwashed to hate. A shocking example of the regular incitement to violence Palestinian children are exposed to in Palestinian Media was broadcast for the world to see last week as part of the 'Palestine Festival for Children and Education'.
The event was broadcast on a Hamas television station dedicated to culture in Gaza and the West Bank.
The play included children wearing military fatigues, and brandished toy knives and machine guns as they performed a play simulating violence against Israelis.
One little girl, dressed in a hijab, is seen pretending to stab two boys dressed as Israeli soldiers, who respond by 'shooting' her.
She falls to the ground amid cries and screams from the audience. Other little girls then approach and cry over her "body."
"Do not be angry with her," a voice on the loudspeaker says. "She is your blood, your flesh and your honor."
Then, amid cheers from the parents and teachers in the crows, a boy dressed as a masked terrorist massacres the soldiers with a replica semi-automatic weapon as upbeat pounding music is playing.
Ofir Gendelman, the Arab media spokesperson at the Prime Ministers Office compared the play to the propaganda of the Islamic State.
Iranian Nuclear Program
In March, Iran test-fired two ballistic missiles, which an Iranian news agency said had the phrase "Israel must be wiped out" written on them in Hebrew. An Iranian commander said the test was designed to demonstrate to Israel that it is within Iranian missile range.
Israel has pointed to ballistic missile tests as proof Tehran plans to continue pursuing an atomic weapon, despite the landmark agreement aimed at curbing its nuclear program.
Israel has long warned that if the world doesn't stop Iran's nuclear program it will have no choice but to act. It would seem to be only a matter of time before Israel's hand is forced as Iran launched yet another ballistic missile test this past week according to Iranian news sources.
Hamas Terror Tunnels/Alliance With Hezbollah
The IDF has uncovered two Hamas attack tunnels entering into Israeli territory in the past month. Another Hamas operative involved in the organization's tunnel enterprise was also recently arrested and shed light on the group's efforts to dig into Israel.
According to the Shin Bet, the suspect said during his interrogation that he was trained to infiltrate, enter structures and place explosive devices in keeping with Hamas's strategy of ensuring that the next round of fighting will take place in Israeli territory.
Hamas is believed to be preparing for their next conflict with Israel and it's tunnels are only part of a larger strategy that may involve teaming up with Hezbollah for a much larger conflict.
Hezbollah is currently bogged down in Syria but still maintains an estimated 100,000 rockets that would do incredible damage to Israel and act as cover for Hamas infiltration.
ISIS Infiltration/Islamic Terror Groups
The last few days have seen a major escalation of the ISIS threats against Israel. In a coordinated maneuver by all of the ISIS commands in the Middle East, the terrorist organization simultaneously released at least 10 videos that it said showed ISIS forces on their way to attack targets in Israel.
All of the videos refer to the Palestinian issue, Jerusalem and the timing of the attacks. In each one, the narrator claims the terror organization did not forget the Palestinians, and will not neglect them any more; describes Jerusalem as "a bridge to Islam"; and threatens an impending attack, saying "We're coming, and coming very soon" accompanied by images of fighters from the ISIS affiliate in the Sinai are shown.
Not to be outdone, Osama Bin Ladens son, Hamza bin Laden, is also calling for various Islamic groups in Syria to unite and "liberate Palestine". Despite many of these groups frequently fighting one another (and ISIS) the one cause that often seems to unite the Arab world is their hatred of Israel.
This is a reminder that it's not just ISIS Israel has to worry about on it's borders.
UN/US Peace Talks Pressure
The French plan to meet with the leaders of some 30 plus countries in late May to discuss the "parameters" of implementing a final peace accord between Israel and the Palestinians (possibly involving other Arab nations as well) that would serve as the basis for a final conference in the Fall of 2016.
It is believed the French will use the Arab League's peace plan from 2002 as the basis for negotiations which calls for a two-state solution based on an Israeli withdrawal to the pre-1967 armistice lines and making east Jerusalem the Palestinian capital in return for "normal relations in the context of a comprehensive peace with Israel."
The US has made clear it supports Israel giving up land for peace but under the right conditions. Those conditions might just be Obama wanting to leave behind a legacy of helping push the peace process forward as one of his last acts in office and it is unclear if such a plan was brought before the UN how the US would respond.
Prime Minister Netanyahu has made clear that Jerusalem and the Golan Heights belong to Israel forever and that future talks should be between the two parties, not imposed by outside forces.
The next 12 months promises to bring incredible opportunity and challenge to the nation of Israel. Will you remember to pray for Israel.
---