Christian Athletes Being Purged For Posting Biblical Beliefs On Social Media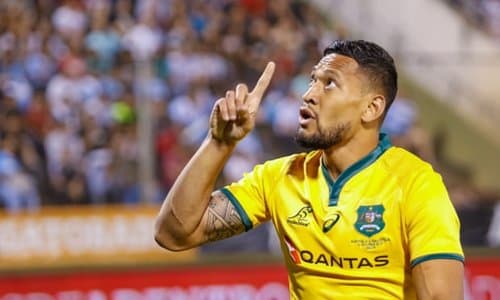 By PNW Staff
May 20, 2019
Share this article:
---
It has become a regular occurrence for Christians to find themselves at the end of the unemployment line after posting about their Biblical beliefs on social media. Now Christian athletes are finding they are increasingly becoming targets.
In Australia, Rugby player Israel Folau has caused a meltdown after posting Bible verses that condemn various sins including homosexuality and call for repentance.
Rugby Australia said in a statement that Folau had "committed a high-level breach of the Professional Players' Code of Conduct warranting termination of his employment contract."
After the controversy erupted, Folau said to the Sydney Morning Herald, "I'll stand on what the Bible says...I share it with love. I can see the other side of the coin where people's reactions are the total opposite to how I'm sharing it."
"First and foremost, I live for God now. Whatever he wants me to do, I believe His plans for me are better than whatever I can think. If that's not to continue on playing, so be it." Folau said of the controversy. "In saying that, obviously I love playing footsy and if it goes down that path I'll definitely miss it. But my faith in Jesus Christ is what comes first."
The stripping away of his right to play the game comes at a terrible time for the world-famous center, who was hoping to play for his country in the 2019 Rugby World Cup, due to take place later this year.
Following Rugby Australia's controversial decision, one of Folau's main sportswear sponsors, Asics, dumped his contract.
"We champion inclusivity and diversity," the company wrote in a statement. "While Israel Folau is entitled to his personal views, some of those expressed in recent social media posts are not aligned with those of Asics. As such, our partnership with Israel has become untenable and he will no longer represent Asics as a brand ambassador."
Car company Land Rover also ditched their sponsorship agreement with Folau.
------------
A pesar de las docenas de apuestas deportivas de ladrillo y mortero y algunas pistas de carreras, gran parte de las
apuestas deportivas en México
se juegan en un mercado sin licencia. Las apuestas de fútbol son la forma más popular de juego, pero el boxeo, el baloncesto, el béisbol y las carreras de caballos pari-mutuel también son populares.
------------
Former Australia coach Alan Jones launched into an impassioned defense of Folau following news of the verdict "if we're not free to articulate our religious beliefs and quote from the Bible, and if we're not free to speak for fear that someone affects a hurt or is part of the offense industry, if that's where we've reached in this country, we've reached a dark place and we are all at risk."
Earlier in the week, Folau revealed he had turned down offers to save his contract by removing the post.
"The way Satan works is he offers you stuff that could look good to the eye and makes you feel comfortable. If you follow that path all the worries and troubles will go away.
"But it is always the will of God that comes first."
Before the panel's decision, he changed his Instagram profile picture to a large '1' which said "God first".
After the verdict, he posted a Bible verse: "And we know that all things work together for good to them that love God, to them who are the called according to his purpose. Romans 8:28".
Similar to how Facebook has now clamped down on not just banning certain Conservative and alternative organizations - but anyone who "likes" their material as well faces expulsion. English rugby player - Billy Vunipola - has also been disciplined by his team for his "like" of Folau's Instagram post.
Meanwhile the double standard could not be more blatant as English Ruby player James Haskell declared in a social media post that taking an orthodox view of the Bible is a "road map to killing people." - faces no discipline.
---