6 Charity Projects for People Displaced by the War in Ukraine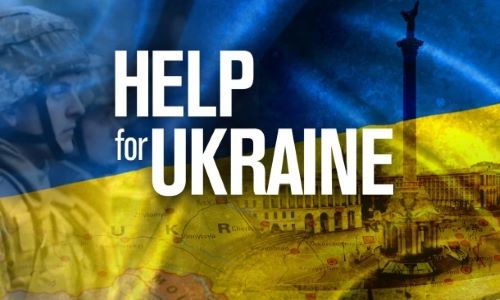 By
Share this article:
---
As a result of Russia's full-scale attack on Ukraine, more than eight million of its residents found themselves seeking refuge abroad. While most remain in their neighbouring countries, some choose the UK as their destination. According to the British government, 82,100 Ukrainians have already arrived in the UK as of June 20. Another 50,000 have been granted their visas.

Fortunately, those who want to arrive or already have aren't on their own. There are multiple charities working day and night to help Ukrainians displaced by war. If you're one of them and you've found yourself in need, below you can find six projects you can turn to.

And if you're a compassionate person who just wants to help, you'll find a short guide on how to do so after the list. Just remember: anyone can help, no matter how tiny the action might seem to you. If you're a student, freeing up an hour of your time using a write my paper service and using it to volunteer does count. The same goes for any donation, even if it's just £5.
British Red Cross
One of the oldest international charities, the Red Cross's national branches, are working hard to welcome refugees from Ukraine. The same rings true about the British Red Cross as well. Its volunteer teams are among the first people Ukrainians see when they arrive in the UK. They're present at:

Birmingham International Airport;

Luton airport, Port of Tyne, St Pancras Welcome Centre in London;

Monmouthshire Welcome Hub in Wales;

The Nottingham branch of the Association of Ukrainians in Great Britain;

Northern Ireland Ukraine assistance centres in Belfast and three other cities.
The British Red Cross is there in the field to help refugees meet their basic needs. They distribute food and water, as well as hygiene kits. They also offer SIM cards that work in the UK, mobility aid to those who need it, and one-time financial help.

What's more, the British Red Cross also helps refugees find and reconnect with their family members that remain in Ukraine. All you need to do is send an email to findyour_family@redcross.org.uk with your full name and phone number.
City of Sanctuary UK
This is an umbrella organisation that seeks to coordinate all the efforts for welcoming refugees. City of Sanctuary is here to bring together local community groups, educational establishments, charities, libraries, theatres, and authorities. Their goal? To prepare the best welcome possible for those fleeing the war.

City of Sanctuary has over 100 local groups that serve as the support network for the newly arrived refugees. This means that you can turn to them for advice and help with settling in and integrating into the community.

What does it mean in practice? For example, if you need help with enrolling your children in a school, finding long-term accommodation, or making connections, the City of Sanctuary team can help you out.

This charity also organises events online and in-person for stakeholders (e.g., local authorities) and refugees alike. For example, it presents 'colleges of sanctuary' at various expos throughout the year.
Ukraine Advice Project UK
Navigating the UK's legal system can be a tough feat even for its residents, never mind foreigners whose native language isn't English. But that's where lawyers from DLA Piper Global Law Firm step in. In the framework of Ukraine Advice Project UK, they're here to offer advice to:

The Ukrainians that are already in the UK – on extending their visas or claiming asylum;

Those who aren't in the UK yet – on how to obtain a visa to come to the country.
There are two caveats, however. First, there are no interpreters available on the other end. So, those who don't speak English will need to find an interpreter on their own. Second, the support helpline's experts can't offer advice on travelling out of Ukraine and around Europe.

You can reach out to Ukraine Advice Project UK experts by filling out a form on their website. There, you'll have to provide your contact details and describe your situation. You can also volunteer to offer advice yourself, provided you have relevant experience.
Barnardo's Ukrainian Support Helpline
Fleeing war is a deeply traumatic experience that can lead to long-term stress, anxiety, and other mental health challenges. But therapy is prohibitively expensive and, therefore, inaccessible for most refugees.

Mindful of this, Barnardo's launched a support helpline for both children and adults who need a consultation. It's free of charge and includes access to interpreters who speak Ukrainian and Russian.

Apart from therapy with a qualified psychotherapist, you can also ask the support workers for advice on settling in the UK. This includes access to housing, health services, employment, education, and more.

The helpline operates from 10.00 am to 8.00 pm Monday to Friday and from 10.00 am to 3.00 pm on Saturday. You can reach it by phone (0800 148 8586) or email (ukrainiansupport@barnardos.org.uk).
Translators Without Borders
This is a project of CLEAR Global – a nonprofit that aims to help people gain access to help and information despite the language barrier. Its volunteers work both as translators in writing and interpreters during conversations.

Any organisation, community group, or individual that supports Ukrainian refugees can apply for support from Translators Without Borders (TWB). This community support lasts three months and can be renewed if needed.

The TWB community has also already translated various documents and guidelines regarding migrant safety and access to services. And it continues to work on similar texts that contain critical information for refugees.
Citizens Advice
Citizens Advice is a charity that has been offering legal advice on everything from work and debt to housing and family matters since 1939. If you face any sort of problems, you can seek specialists' advice online, in person, or by phone.

It's true: this charity isn't laser-focused on helping refugees, Ukrainian or otherwise, per se. Yet, it's still a potentially life-saving resource for anyone who's just arrived in the UK and needs advice on building a life here.

That can include anything from understanding your rights to mental health care to claiming benefits and settling employment disputes. That said, Citizens Advice is also mindful of particular issues or questions that Ukrainian refugees can encounter. Its specialists can advise you on getting a visa for yourself or sponsoring your family members, for example.
In Conclusion: 3 Ways to Contribute to a Charity Project
If you want to help organisations like the British Red Cross, you might be tempted to go grocery shopping or donate your old clothes. But these aren't the best ways to help a nonprofit organisation. Here are three better ways to contribute to their cause:

Donate. Money is the best way to help. Even if you buy the items that refugees need yourself, nonprofits can negotiate a discount and get more for the same amount of money. Set up a regular donation if you can afford to.

Volunteer. If you can't donate money – or want to do something more – donate your time. Even an hour per week or two can make a difference. What's more, sometimes, you can volunteer without leaving your home: you can make posters, translate texts, etc.

Spread the word. Share your efforts with your friends and family. Make a post about it on social media. Invite others to contribute as much as they can. The more people willing to act there are, the easier it is to help people in need!
---