Target Hires 'Trans-Satanist' To Design Pride Clothing Line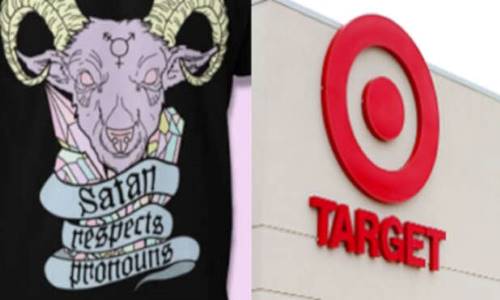 By Bob Unruh - WND News Center
May 23, 2023
Share this article:
---
Target has gone to hell to get a new designer for its "Pride" products, choosing avowed Satanist Abprallen, who claims "Satan loves you," and much better than that, "Satan respects pronouns."
A commentary at Twitchy charged, "Thinking Target went WAAAAY too far this time. We suppose after they were one of the big boxes to survive what the government did to businesses during the lockdowns they think they are untouchable. That or they're just really ignorant of the people they choose to work with."
Breitbart has published a report that explains, "Among other items in its Pride line, the mega retailer carries Abprallen's 'Cure Transphobia' sweatshirt, which bears the message 'Cure transphobia, not trans people.'"
The report explains Abprallen includes Satanism with its LGBT activism, stating online, "Satan loves you and respects who you are; you're important and valuable in this world and you deserve to treat yourself with love and respect."
The statement continues, "LGBT+ people are so often referred to as being a product of Satan or going against God's will, so fine. We'll hang with Satan instead. So, naturally, Satan respects pronouns. He loves all LGBT+ people."
One of the products from Abprallen is a pin featuring the image of the demon Baphomet with the claim to respect pronouns.
The company's owner, a self-described "gay, trans man," Erik, claimed "Coming up with this phrase really helped make Abprallen what it is today."
Target, already on the cutting edge of LGBT activism, claims a commitment to "diversity, equity and inclusion."
"They are part of our core values," the company said.
The Washington Examiner reported, "Among Abprallen's other apparel are images of pentagrams, horned skulls, and references to devils. … These items have even been known to be sold at London's Satanic Flea Market during December, which the brand promoted on its social media."
One social media commenter was at the end of the rope.
"Hope that social credit score was worth it," the anonymous person wrote. "I will never step foot into your stores again.
Another wrote that the idea was logical: "In all fairness, a Satanist seems like the perfect person to design a 'Pride' clothing line."
With June just around the corner we can expect Target to once again go all out with it's Pride Month displays but it is already coming under fire for it's female-style swimsuits that can be used to "tuck" male genitalia and it's new LGBTQ-themed clothing for infants and young children which has outraged many online.
---