COVID Hysteria Making A Comeback As Mask Mandates Spread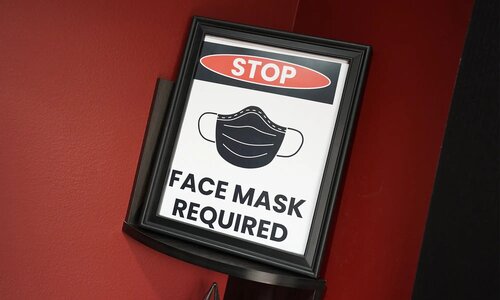 By PNW Staff
August 22, 2023
Share this article:
---
With new COVID variants, including BA.2.86 and EG.5, in the news, the same media and activists on the Left who were most fanatical about masks and other heavy-handed COVID policies during the pandemic are now pushing mask mandates again.
This week it was Hollywood studio Lionsgate who sent an email to staff asking them to mask up as well as Morris Brown College it Atlanta who just began classes last week, but will require all students and employees to wear face masks. Unconfirmed reports have also suggested internal memos in the TSA and other Government agencies are warning staff to prepare for similar action this Fall.
Conservatives warned it could be a precursor to a return to oppression in the name of fighting COVID, and vowed collectively not to "comply."
U.S. Sen. Mike Lee, R-Utah, tweeted out the message: "COVID [does not equal] constitutional authority" above a tweet by Ryan Cunningham that states: "The WHO [World Health Organization], CDC, Biden Admin are fear mongering a new COVID variant BA.2.86 after highly mutated strain reported in Michigan. Sources in DHS and Emergency Management (my field) are already preparing for lockdowns and restrictions. Look at todays headlines. It's a coordinated government & media campaign."
The post flashed a string of ominous-sounding headlines from the following media: CBS News, NBC News, the Guardian, CNBC, Times of Israel, ABC News, Reuters, Washington Post and the New York Post. Here is the headline in the left-wing British newspaper the Guardian: "New COVID variant causing concern among scientists detected in London."
But with most Americans enjoying their freedom and thrilled the era of compelled mask-wearing is over - and conservatives already vowing not to comply with renewed COVID restrictions - it appears it would be a lot harder for elites to instill mass COVID paranoia and the tyranny that flows from it than it was in the initial phase of the pandemic under Donald Trump's presidency.
Writing in the New York Times on Tuesday, columnist Bret Stephens highlighted new research from an Oxford University epidemiologist who found that masks--and mask mandates--did nothing to slow the spread of Covid-19 or protect people from the virus.
The most rigorous and comprehensive analysis of scientific studies conducted on the efficacy of masks for reducing the spread of respiratory illnesses -- including Covid-19 -- was published late last month. Its conclusions, said Tom Jefferson, the Oxford epidemiologist who is its lead author, were unambiguous.
"There is just no evidence that they" -- masks -- "make any difference," he told the journalist Maryanne Demasi. "Full stop."
But, wait, hold on. What about N-95 masks, as opposed to lower-quality surgical or cloth masks?
"Makes no difference -- none of it," said Jefferson.
What about the studies that initially persuaded policymakers to impose mask mandates?
"They were convinced by nonrandomized studies, flawed observational studies."
The op-ed has gathered a great deal of attention, especially from opponents of mask mandates who for years have argued masking did not offer the protection against the virus that mask proponents claimed.
In U.S. cities where mask use has been more common, Covid has spread at a similar rate as in mask-resistant cities. Mask mandates in schools also seem to have done little to reduce the spread. Hong Kong, despite almost universal mask-wearing, recently endured one of the world's worst Covid outbreaks.
Advocates of mandates sometimes argue that they do have a big effect even if it is not evident in population wide data, because of how many other factors are at play. But this argument seems unpersuasive.
Even less dangerous than Omicron
Moreover, the new variant is less dangerous that the Omicron variant that spawned it, says one COVID dissident, independent writer and former New York Times reporter Alex Berenson.
"After a long quiet stretch, media and Twitter Covid scaremongering is on the rise," Berenson writes on his Substack page Aug. 17. "The noise raises two questions. Is anything actually happening? And, if not, why all the shrieking?"
"The first question is easier to answer: No. Nothing is happening," he writes in the piece titled, "Why are the Covid hysterics at it again?"
One can only image the debate coming soon over the new Covid boosters expected this Fall.
---