Clinton Emails Reveal Barrage Of Anti-Israel Counsel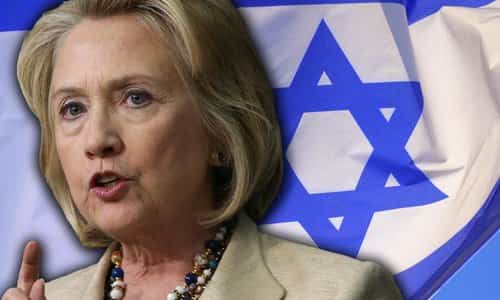 By Tom Olago
February 12, 2016
Share this article:
---
The 2016 race for the U.S presidency is on in earnest and one of the key issues that candidates tend to focus on is the incessant Mid-East crisis. Given the notable political influence of American Jews and the general support from evangelical Christians for Israels right to exist, presidential candidates try hard to woo this significant voting bloc.
It is, therefore, unsurprising that Democrat frontrunner Hillary Clinton has been reading from the politically favorable 'stand with Israel' script as part of her campaign to succeed Barack Obama. However, her sincerity on supporting Israel has been called into question following scrutiny of her past email correspondences with her political advisers.
Reporting for frontpagemag.com, Joseph Klein recalls a sample of Hillary's statements made in support of her official stand: "I have stood with Israel my entire career... As president, I will continue this fight." Klein, however, submits that peace and security in the region are not enhanced by "a loophole ridden deal with a fanatical Islamist regime (Iran) sworn to Israel's destruction and to exporting its self-described 'Islamic revolution' around the world".
He further stated that certain e-mails from Hillarys closest advisers when she was serving as Secretary of State reveal the barrage of anti-Israel counsel she was receiving. A Jerusalem Post article concluded: "These emails seem to demonstrate that a huge segment of her close advisers and confidantes were attacking Israel, condemning Prime Minister Benjamin Netanyahu and strategizing how to force Israel to withdraw from Judea and Samaria at all costs".
The issue for Hillary arises not so much from the mere fact that she was so advised, as from the perception that she received those anti-Israel sentiments warmly and even sought to help in their implementation.
One such proposal was reportedly made to her by Anne Marie Slaughter, who was Hillary Clinton's director of policy planning from 2009 to 2011. Slaughter proposed the launch of a 'Pledge for Palestine' campaign that "would also be a certain shaming effect re Israelis who, would be building settlements in the face of a pledge for peace". Hillarys receptive response: "I am very interested - pls flesh out. Thx."
Indications are that similar pro-Palestine and anti-Israeli proposals fronted by her other advisers were similarly embraced with no sign of reticence or discomfort from her. These advisers included Thomas Pickering, Under Secretary of State for Political Affairs during President Bill Clinton's second term, Sidney Blumenthal - informal adviser, family friend and business associate, and Sandy Berger, Hillary's foreign policy adviser during her 2008 presidential campaign.
A recent Jerusalem Post opinion piece by Shmuley Boteach on the same topic observed: "In the entire forced dump of Clinton's emails, you will be hard-pressed to find a single one sympathetic toward the Jewish state from any of the people she relied on. The negative, poisonous approach to Israel throughout this email exposé shows the atmosphere that she had established around herself...."
Nevertheless, it remains to be seen how damaging these emails might be to Hillarys 2016 campaign. Political reporter Brendan Bordelon for the National Review examined at length the extent to which Hillarys key advisers has demonstrated anti-Israeli attitudes and positions while maintaining a clear pro-Palestinian bias.
Bordelon gave a more detailed account of Sydney Blumenthal's repeated attacks against Israel and the Jewish administration, as well as his passionate attempts to influence Hillary to act against Israel and in favor of the Palestinians.
Could these revelations alone be powerful enough to trip up Hillary in her race for the democratic nomination, and ultimately the U.S presidency? Opinion seems to be divided but based on the emails alone it seems clear that Hillary has always been less than hawkish in her support for Israel.
Even so there are those like former state department official Aaron David Miller who believe that the emails will be inconsequential.
"No matter what is contained in these e-mails, given the fact that 80 percent of American Jews are going to vote Democratic; given the fact that, generationally, she's far more sensitive to the Israeli issue and far more skilled in dealing with Israelis than Barack Obama, I think this is not going to damage her," he said.
Others such as Cliff May, president of the Foundation for the Defense of Democracies would disagree. May argued: "I cant believe this wont cause concern among such people.. There are those who would say, 'I've known Hillary. Ive known her for years and years, and I have no doubt where her heart is. But I think anyone reading these e-mails has to think theres cause for concern here."
---