Hundreds Of Jordanians Call For Cancellation Of Peace Treaty With Israel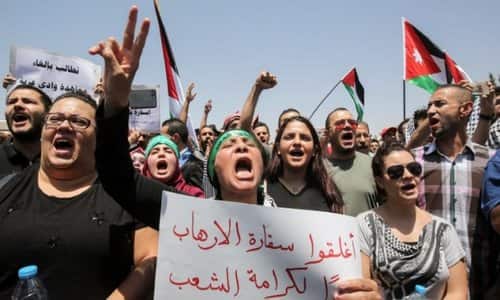 By Barney Breen-Portnoy/Algemeiner.com
July 29, 2017
Share this article:
---
Several hundred Jordanian protesters held a demonstration near the Israeli Embassy in Amman on Friday where they called for the cancellation of the Hashemite kingdom's 1994 peace treaty with the Jewish state.
According to Israeli media reports, including one by Channel 2, the protesters chanted slogans such as, "A million martyrs are marching to Jerusalem" and "Resist, don't give in."
Many of the protesters also chanted "Death to Israel" and "No Zionist embassy on Jordanian soil,"
Tensions between Israel and Jordan have been running high since last Sunday's incident in which an Israeli Embassy security guard shot two Jordanians dead after he was assaulted with a screwdriver.
Jordan was also critical of the security measures -- later lifted -- Israel put in place at the Temple Mount in Jerusalem following the July 14 terrorist attack there in which two policemen were killed.
On Thursday, Jordanian King Abdullah II said the guard -- who returned to Israel on Monday with the rest of the staff of the embassy, which now stands empty -- must bear responsibility for his actions.
Only after US intervention did Amman relent, allowing the guard and the rest of the embassy staff to leave Jordan however Jordan has charged the security officer with murder in absentia.
Abdullah went on to urge Israeli Prime Minister Benjamin Netanyahu -- who publicly embraced the guard after his arrival back in Israel -- to "honor his responsibilities and take the necessary legal measures to ensure that the killer is tried and justice is served, rather than exhibiting political showmanship in dealing with this crime to score personal political points."
The monarch threatened the affair would have a negative affect on bilateral ties between Amman and Jerusalem.
A Jordanian government official said that Jordan will not allow the return of Israel's ambassador until the shooting of two Jordanians by the embassy security guard has been properly investigated.
The Foreign Ministry said in a statement Friday that Israel was "launching a probe process into the incident, in accordance with the appropriate legal proceedings in such matters" and would pass the findings on to Jordan.
---