Growing Turkey-Russia Alliance Portends Echoes of Ezekiel 38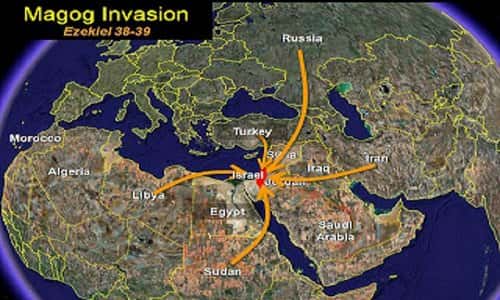 By PNW Staff
October 30, 2017
Share this article:
---
Turkey, which had been a long-time US ally, continues its process of re-Islamification under President Erdogan at the same it forges closer ties with Russia. On September 28th, Putin visited Erdogan in Ankara to discuss the situation in Iraq and Syria as well as increasing trade between Russia and Turkey.
The two nations have come a long way since the diplomatic incident in 2015 caused by Turkey shooting down a Russian fighter jet near the Syrian border.
The two countries have often found themselves at odds during the Syrian conflict, with Russia a stalwart supporter of the Assad regime while Turkey has given support to the regime's enemies. Now however, the two leaders are working to set up "de-escalation zones" within Syria to bring a measure to calm to the region.
After the talks, Erdogan reported that the leaders had focused on stopping the fighting in Syria's northern province of Idlib, which sits near the Turkish border, and pledged his support for a political end to the conflict.
Putin, too, spoke in friendly terms of Erdogan, calling him "our friend, President Erdogan" and thanked him for helping to make peace possible and expressed his hope that Turkey would help stabilize the area enough for refugees to return home.
As part of the fast-growing military alliance between Russia and Turkey, the sale earlier this month of the S-400, Russia's most advanced air defense system, has helped to cement these ties. Turkey has publicly stated that it plans to purchase the next generation system as well, the S-500 defense system that is still in development.
On October 13th, Turkish media reported Erdogan as saying, "In our talks with Russian President Vladimir Putin we are not thinking of stopping with the S-400s. We have had talks on the S-500s too.
Apart from official diplomatic pronouncements, this adoption of Russian military technology speaks to Erdogan's intentions, since these systems are incompatible with Western military hardware. In short, Turkey is slowly turning away from NATO in favor of Russia.
In October, a new diplomatic incident took place between Turkey and the United States that prompted Erdogan to warn the US, "We don't need you" in response to Washington blocking non-immigrant visas.
The US had blocked the visas to send a message after US Istanbul Consulate official Metin Topuz was arrested, and now Turkey has blocked US tourism to Turkey as well. Topuz has been accused of helping Gulen supporters to escape arrest after the failed coup attempt.
Russia and Turkey are both ruled by authoritarian governments that have grown increasingly hostile to the West. Turkey signed a $17 billion-dollar oil deal with Russia to replace the black market oil that Erdogan had imported from ISIS-controlled fields.
An unholy alliance of Iran, Russia and Turkey grows stronger every day. Islam has tightened its grip over a once-secular Turkey and the Islamic Republic of Iran now snubs US demands while celebrating its ties with Russia.
To students of Biblical prophecy, this development should come as no shock.
Prophecy experts have long taught of the Gog/Magog War of Ezekiel chapters 38 and 39 that foretell how a coalition of nations led by Russia, Turkey and Iran (Persia) would come against Israel.
However, way back in the later days of the Cold War it was very hard to image how a staunchly secular Turkey could join a military alliance with one of its greatest enemies, the USSR (pre-1990 communist Russia), and a group of backward (in the minds of the Turks I worked with at that time) Muslim nations.
But here we are, and Ezekiel's 2,600-year-old prophecy is steadily coming to pass. Now Turkey's greatest enemy, the USSR, has long since collapsed, and Turkey is now governed by a radical Muslim dictator who is aligning with the Koranic Curtain countries of the Middle East.
The Lord God will set the hook... (Ezekiel 38.4)
Turkey is now positioned ideologically and politically to fulfill its end time prophetic role.
Though a palpable tension still exists between Turkey, and Russia and its Iranian partner, it is not hard to envision that any issues can be readily set aside to execute mutually shared goals against Israel.
As we read in the opening verses it is the Lord God's mighty hand which shall set the hook in the jaws and bring forth these nations.
Be in awe as the Lord God methodically maneuvers the peoples, tongues and nations in order to bring about His divine purposes, working on a time scale and in ways into which we can only catch a glimpse.
Keep watching the Middle East, as it will always remain the center of prophetic fulfillment.
At the same time, be listening for the Trumpet. "For the Lord Himself shall descend from Heaven with a shout, with the voice of the archangel, and with the trump of God: and the dead in Christ shall rise first: Then we which are alive and remain shall be caught up together with them in the clouds, to meet the Lord in the air: and so shall we ever be with the Lord. Wherefore comfort one another with these words." (I Thessalonians 4.16-18)
---