Did Iranian Commander Just Hint Sleeper Cells Are Ready To Strike In US?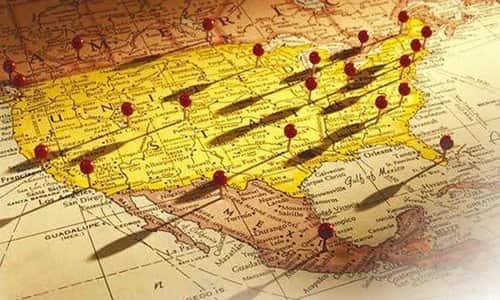 By PNW Staff
August 27, 2018
Share this article:
---
As tensions between Iran and the United States heat up and sanctions take effect, the already weak Iranian economy is feeling the pain, but what could Iran do to retaliate against the United States? US intelligence officials believe that strikes could include political influence campaigns, crippling cyberattacks, terrorist attacks and even targeted assassination.
In several of these cases, Iran would be expected to activate sleeper cells already present within US territory to carry out the attacks. While some of the as-yet-unactivated agents may be Iranian nationals, it is more likely that they draw from the ranks of Hezbollah and have slipped in under the guise of legal visitors and asylum seekers.
Microsoft announced last week that it had closed 82 fake websites linked to Iran and corporate intrusion campaigns. After building an employee log-in page that mimics those of a major US company, the hackers would send out emails that spoof internal company addresses, thereby tricking the employees into logging into the fake page and revealing their login credentials. Once inside corporate networks, industrial espionage, sabotage, theft, malware planting and even large-scale cyberattacks are possible.
Earlier in July of 2018, it was reported that US officials had discovered Iranian intrusions into computer systems of the electric grid, power plants, healthcare and technology companies, most likely instigated by hacker cells physically present near the air-gapped installations not accessible over the Internet.
These attacks which, if well-coordinated, could result in multi-state blackouts, water failures, bank shutdowns and e-commerce disruption, would cause both widespread panic and financial impact on the country. The threat is no longer hypothetical because as recently as July, Iranian malware was discovered in the computer systems of several electrical grid computers.
As concerned as intelligence officials are about cyberattacks on American infrastructure and businesses, the threat of Iranian sleeper cells capable of terrorist attacks is even more menacing.
In a recent war of words, the Iranian President was measured in his response but General Qassem Soleimani, leader of the elite Quds Force within Iran's Revolutionary Guard was much bolder in his threats.
"I am your foe," Soleimani said, in direct response to President Trump, "and my Quds Force is your foe. There isn't a night where we do not think about you in our sleep. I tell you, Mr. Trump, the gambler, I tell you that at this moment when you are incapable of thinking, we are closer to you in a place you never even imagined."
In this shocking statement, a top Iranian military commander is hinting at sleeper cells capable of launching terrorist attacks and targeted assassinations.
Later in his response, the general warned that war with Iran would "destroy all that you possess". Continuing his rhetoric, he threatened, "You know our power in the region and our capabilities in asymmetric war. We will act and we will work".
Asymmetric war could be actions such as crashing a stock exchange, taking down a power grid, poisoning major city's water supplies, assassinating senators, setting off explosive devices at major population centers and using drones to attack the capital.
In a report to Congress, intelligence officials confirmed that such attacks are not only plausible but relatively easy for Iran to carry out.
In the words of Rep. Peter King (R., NY), who is on the House Homeland Security Committee, Iran poses "a direct threat to the homeland". He went on to explain to reporters that "Iranian support for Hezbollah, is active in the Middle East, Latin America, and here in the US, where Hezbollah operatives have been arrested for activities conducted in our own country. In Rep. King's opinion, "Hezbollah is probably the most experienced and professional terrorist organization in the world".
King's remarks were made before the capture of two alleged Iranian spies arrested in the U.S. on August 9, 2018 who were gathering intelligence on Americans and Iranians who oppose the regime. That intelligence was apparently to be used for attacks.
Ahmadreza Mohammadi-Doostdar, an Iranian with dual U.S. citizenship, and Majid Ghorbani, an Iranian national with permanent U.S. residency, were charged with acting as agents on behalf of the Iranian government in federal court on August 20, 2018. According to the FBI affidavit, Doostdar and Ghorbani were preparing alleged "target packages" on individuals who posed a threat to the Iranian regime on American soil.
Iran is believed to command around 200,000 fighters across the Middle East and between 50 and 60 thousand of these have already seen combat in Syria and Iraq. Through Latin America, Hezbollah has been active in making links with drug cartels and other criminal networks in its effort to infiltrate the United States.
For those who dismiss the threat of Iran-backed terrorist sleeper cells, it would be wise to look at the terrorist attacks Iran has already carried out in Saudi Arabia, Iraq and Argentina, among other countries.
---