New Congresswoman Displays Map With Israel Replaced By 'Palestine'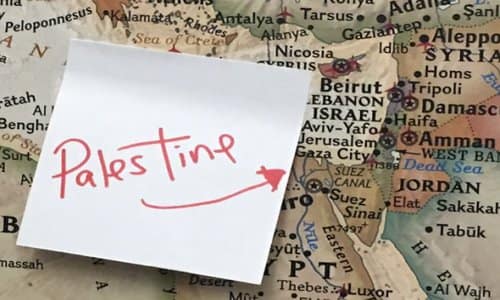 By PNW Staff
January 08,2019
Share this article:
---
Congresswoman Rashida Tlaib (D-Mich.) displayed a map on her first day in the House of Representatives with a note posted over Israel that reads "Palestine."
Buzzfeed reporter Hannah Allam posted on Twitter, "Someone has already made a slight alteration to the map that hangs in Rashida Tlaib's new congressional office."
This should not come as a surprise. Tlaib has stated she is in Congress to "be a voice" for Palestinians in the West Bank (note: NOT Palestinian-Americans, or her constituents) and even before she was sworn in on Thursday--the ceremony of which was attended by Women's March leader and anti-Israel activist Linda Sarsour, who has been criticized for not condemning her ties with anti-Semitic Nation of Islam leader Louis Farrakhan--Tlaib endorsed the BDS movement.
Since being sworn in she has used expletive curse words to describe the President while demanding his impeachment as well as criticized senators who are trying to pass legislation to strengthen ties with Israel, accusing them of "dual loyalty" and "forgetting what country they represent".
She also recently defended Marc Lamont Hill for comments he made calling for Israel to be eliminated and replaced by "a free Palestine from the river to the sea," a frequent rallying call made by terrorist group Hamas.
So far, other Democrats have remained silent on Tlaib's disgraceful actions. The party's continual shift to the far left makes that no real surprise but it still makes them abetters, enablers -- and equally guilty.
She also announced her own upcoming congressional delegation trip to the West Bank, which no doubt will be full of anti-Israel propaganda.
While the map in U.S. Congress is insulting to all those who care about Israel and peace, the map that the P.A. uses in its education of its children is far more problematic.
The official P.A.'s map of "Palestine" teaches Palestinian children that the "geographical area" of the "State of Palestine" encompasses all of Israel. Fatah takes it one step further by putting the rifle next to the map, indicating that through the rifle Israel will become "Palestine."
The map and the ideology accompanying it actively destroy any chance for peace. How can we expect Palestinian children, who are taught that the correct map of the world has no Israel, to ever consider living in peace with the country they are taught should not even exist?
---