Congresswomen Omar, Tlaib Support Gaza Terrorists In Onslaught Against Israel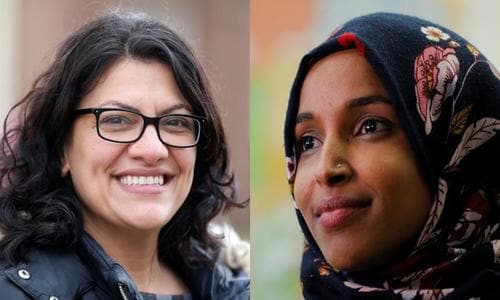 By Meira Svirsky/Clarion Project
May 07, 2019
Share this article:
---
Despite a ceasefire in the current conflict between Israel and Hamas, Congresswomen Ilhan Omar and Rashida Tlaib both felt compelled to show their support to Hamas and the other Gaza terrorists in their onslaught against Israel.
The United States declared Hamas a foreign terrorist organization in 1997. In 2007, Hamas declared its intention to to destroy America and called on Allah to annihilate every American.
Palestinian terrorists from Hamas and Islamic Jiahd have fired over 700 rockets into Israel in 48 hours, killing four and injuring at least 234, not including the trauma the rocket barrage the has brought upon the Israeli civilian population - including children.
In support of the Palestinain terrorists, Omar tweeted:
"How many more protesters must be shot, rockets must be fired, and little kids must be killed until the endless cycle of violence ends? "
The status quo of occupation and humanitarian crisis in Gaza is unsustainable. Only real justice can bring about security and lasting peace.
Cycle of violence? In the past year, Israel's southern communities have endured a constant volley of incendiary devices - mainly balloons filled with explosives - from Gaza that have burned fields, greenhouses and homes, causing untold destruction.
Occupation and humanitarian crisis? Israel left Gaza in 2005, but has continued to supply goods, services and medical supplies to the people of the Gaza Strip who chose to be governed by Hamas in a democratic election. In the midst of this latest missile barrage, Israel still allowed a fuel shipment from Israel into Gaza "to avoid a humanitarian crisis."
When Israel pulled out of Gaza in 2005, communities left their hothouses intact, representing what could have been a thriving business for the Palestinian people as it had been for the former Jewish farmers of the Strip. The hothouses were promptly burnt down by baying mobs along with the synagogues that were also left behind.
Massive economic assistance by world powers, which has poured into Gaza by the millions over the years, has been hijacked by Hamas for its terror operations.
In supporting the Palestinian terrorists, Congresswoman Rashida Tlaib, for her part, saw fit to criticize a factual headline by The New York Times, historically and currently one of the most anti-Israel and anti-Semitic newspapers on record.
"When will the world stop dehumanizing our Palestinian people who just want to be free? Headlines like this & framing it in this way just feeds into the continued lack of responsibility on Israel who unjustly oppress & target Palestinian children and families. #FreePalestine "
A "ceasefire" has supposedly been reached. That usually means that Israel ceases and Hamas fires. In this case, Islamic Jihad - a terror group in Gaza that is, for all practical purposes, a subsidiary of Iran - has said that they will not abide by any ceasefire agreement and has vowed to shoot missiles into Tel Aviv.
President Trump has offered his unwavering support to Israel and its right to defend itself.
At the same time, National Security Adviser John Bolton announced on Sunday that America was deploying the USS Abraham Lincoln Carrier Strike Group and a bomber task force to the Middle East in response to a "number of troubling and escalatory indications and warnings" from Iran.
The White House said the move was intended "to send a clear and unmistakable message to the Iranian regime that any attack on United States interests or on those of our allies will be met with unrelenting force."
"Imagine if 600 rockets had been fired into the US or any other country besides Israel. What country would not defend itself? Every Presidential candidate needs to weigh in on their thoughts on this attack. Go ahead ... we'll wait," tweeted former U.S. Ambassador to the United Nations Nikki Haley.
None of the 2020 Democratic candidates have commented on the situation in Israel or Gaza.
---