Rep. Tlaib Rewrites History With Palestinian Support For Jews During Holocaust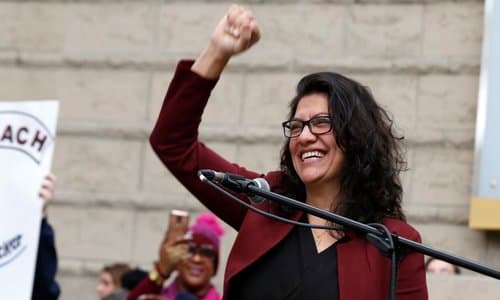 By Jackson Richman/JNS.org
May 14, 2019
Share this article:
---
In an interview broadcast by Yahoo News on Saturday, Tlaib, the 42-year-old daughter of Palestinian immigrants to the US who represents Michigan's 13th congressional district, said, "There's always kind of a calming feeling I tell folks when I think of the Holocaust, and the tragedy of the Holocaust, and the fact that it was my ancestors -- Palestinians -- who lost their land and some lost their lives, their livelihood, their human dignity, their existence in many ways, have been wiped out."
"And just all of it was in the name of trying to create a safe haven for Jews, post-the Holocaust, post-the tragedy and the horrific persecution of Jews across the world at that time," she added. "And I love the fact that it was my ancestors that provided that, right, in many ways. But they did it in a way that took their human dignity away and it was forced on them."
Tlaib's comments were widely criticized as an extreme distortion of history.
American Jewish scholars immediately weighed in on a correction of the historical record.
"Congresswoman Tlaib's ignorance is exceeded only by her gall. Had she read no further than Wikipedia, she would know that the Grand Mufti of Jerusalem, Amin al-Husseini, collaborated with both Italy and Germany by making propagandistic radio broadcasts and by helping the Nazis recruit Bosnian Muslims for the Waffen-SS," Jonathan Sarna, professor of American Jewish History in the department of Near Eastern and Judaic Studies at Brandeis University, told JNS. In November 1941, the Mufti met with Hitler to further his colloboration.
"Those interested in facts, rather than distortions and propaganda, should consult Klaus Gensicke and Alexander Fraser Gunn's The Mufti of Jerusalem and the Nazis: The Berlin Years, or the very readable book by David Dalin and John Rothmann, Icon of Evil: Hitler's Mufti and the Rise of Radical Islam," he continued.
Many Palestinian Arabs vigorously -- and violently -- opposed Jewish immigration into Palestine, both before and during the Second World War, when it was clear that Jews faced persecution (and worse) in Europe.
After the Second World War, Palestinian Arabs continued to oppose Jewish immigration, and Palestinian Arab forces attacked the nascent State of Israel, joining armies from surrounding Arab countries in an effort to quash the Jewish state.
Palestinian Authority president Mahmoud Abbas wrote his Ph.D. thesis denying aspects of the Holocaust, and delivered a speech in 2018 in which he appeared to defend Nazi Germany's decision to murder Jews.
On Monday, Trump tweeted, "Democrat Rep. Tlaib is being slammed for her horrible and highly insensitive statement on the Holocaust. She obviously has tremendous hatred of Israel and the Jewish people. Can you imagine what would happen if I ever said what she said, and says?"
Trump was not the only Republican to condemn Tlaib. House Minority Whip Steve Scalise of Louisiana issued a statement saying, "There is no justification for the twisted and disgusting comments made by Rashida Tlaib just days after the annual Day of Holocaust Remembrance. More than six million Jews were murdered during the Holocaust; there is nothing 'calming' about that fact."
Scalise also lashed out at House Democrats in general.
"Unfortunately, this is far from the first display of heinous anti-Semitic comments coming from Democrat House members this year, and it's clear this is now the norm for their caucus," he said. "It's long past time for Speaker Pelosi to take swift action and make it clear that these vile comments have no place in Congress."
Representative Liz Cheney of Wyoming joined Scalise, describing Tlaib's statements as "sickening."
She also urged Democratic leaders "to finally take action against Representative Tlaib and other members of the Democratic caucus who are spreading vile antisemitism."
"All of us, regardless of party, must stand as Americans against the evil of antisemitism," she added. "If the Democratic leadership continues to stand by in silence, they are enabling the spread of evil."
Originally published at
JNS.org
- reposted with permission
---