Fighting Back: Illegal Sharia Patrol Convicted In Germany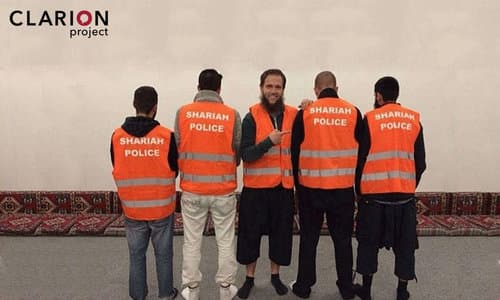 By Clarion Project
May 31, 2019
Share this article:
---
Members of a sharia patrol operating on the streets of Germany were found guilty of violating the country's laws against wearing uniforms that are "suggestively militant or intimidating."
The law was made originally to squelch any nascent Nazi-like street movements.
The seven men who comprised the patrol, which was operating on the streets for Wuppertal, were ordered to pay between 300 and 1,800 euros ($336-$2015) each but will serve no jail time.
The case dates back to September 2014 when a group of Salafist Muslims were caught patrolling the streets of the western German town telling those walking by not to engage in activities forbidden by sharia (Islamic) law.
Wearing bright orange vests labeled Sharia Police, the group handed out notices to passersby announcing the area was a "sharia-controlled zone," which meant alcohol, drugs, gambling, music, concerts, pornography and prostitution were prohibited.
Despite the fact the group was dressed in the vests, the first court to hear the case -- a regional court -- ruled the group had not violated the country's laws on wearing military or intimidating uniforms.
In 2016, a federal court overturned the ruling, saying the judges in the regional court mistakenly failed to consider the impact the men's actions had on the public.
"These people's intention is to provoke and intimidate and force their ideology [upon others]," said Peter Jung, the mayor of Wuppertal at the time of the acquittal.
The men, who ranged in ages from 27 to 37, were led by one of Germany's best-known Islamist preachers, Sven Lau, a 38-year-old convert to Islam.
Lau was convicted in 2017 of supporting a terrorist organization for recruiting potential jihadis for the war in Syria. He is currently serving a five-year prison sentence.
In the UK, members of a similar sharia patrol were sent to jail for trying to enforce sharia law on the streets of London.
In that case, prosecutor Alex Chalk argued to the court, "This is a case about religious vigilantism. These men were members of a self-styled Muslim Patrol who threatened, intimidated and even assaulted members of the public who they perceived to be behaving in an un-Islamic manner."
In another case in the UK, a gang of five Muslim men operated as a self-appointed sharia patrol brutally attacking an American student from Florida who was drinking from a bottle of alcohol on the street.
Francesco Hounye, 23, had only been in London for three days when he was attacked. He suffered more than 40 kicks and punches (many in the head) and his bottle of liquor was smashed over his head, breaking his eye socket and requiring 23 stitches. He was left permanently scarred and suffers from post-traumatic stress disorder.
The men received jail terms of more than 15 years each.
---