US In Moral Freefall As Everyone Does What Is Right In Their Own Eyes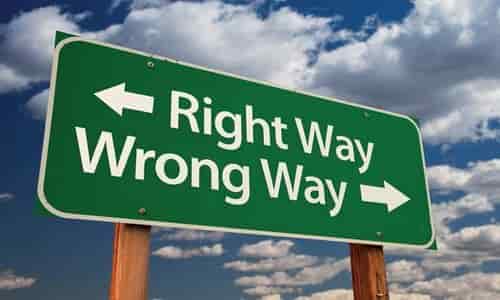 By PNW Staff
June 09, 2020
Share this article:
---
In those days Israel had no king; all the people did whatever seemed right in their own eyes. Judges 21:25
"The consequences of rejecting God's truth are undeniable. We know that what we believe dictates how we behave. Today, we are seeing the moral breakdown permeating the culture around us, and it is playing out with devastating consequences in our culture".
This was the conclusion of Len Munsil, President of the Cultural Research Center at Arizona Christian University who conducted a new poll in association with the Barna Group. The poll revealed 58 percent of respondents said they look to themselves or other people when making moral decisions. Less than one third said that they look to the Bible.
The Center surveyed 2,000 adults at random in January, long before the impact of the Coronavirus and rioting across the country. The American Worldview Inventory study, interviewed all ages, ethnicities, beliefs and political persuasions on the telephone or online.
A total of 58 percent of U.S. adults agreed that "identifying moral truth is up to each individual; there are no moral absolutes that apply to everyone, all the time," according to the survey.
Sadly, 48 percent of adults who identified as born-again Christians agreed with the statement.
The Cultural Research Center also found that the type of church the person attends often corresponded with their answer.
"The adults most likely to rely upon a religious resource -- usually the Bible -- were those aligned with either an evangelical church (58%) or Pentecostal church (62%)," the report states. "People associated with a mainline Protestant congregation were most likely to rely upon themselves for moral wisdom (34%). Catholics were most likely to turn to other people (34%)."
Evangelical church attendees (72 percent), Pentecostal church attendees (70 percent) and born-again Christians (69 percent) were among the most likely to say God is the basis of truth.
Political conservatives were also most likely to rely upon the Bible (40%), while moderates (17%) and liberals (11%) were least likely, instead relying on their own feelings, beliefs, and knowledge for moral direction.
Perhaps most troubling, the findings regarding the moral views of the youngest generation indicate this downward moral trajectory is likely to continue. Americans age 18 to 29 are least likely--only 15%--to turn to the Bible for moral guidance and instead look to themselves (29%) or to family (25%).
This compares with about one-quarter of older Americans, including 23% of those ages 30 to 49, 25% of those 50 to 64, and 26% of those over 64.
Even though young people reject the Bible as a source of moral guidance, hidden within the study's findings may be some encouraging news. As Munsil explained. "A sizeable percentage of young people still look to their family for moral guidance. It's important for parents and other family members to look for opportunities to share moral truth because the next generation wants to hear from them."
Dr. George Barna said that he was not surprised at the results of the survey as he has observed America's departure from its moorings for decades.
"The percentage of adults with a biblical worldview has been sliced in half since 1995," he remarked in a statement. "As Americans embrace the consequences of unrestrained moral choices, we will see further rejections of traditional marriage, conventional child-rearing practices and objectives, millions more abortions, excessive substance abuse, and wider acceptance of suicide, polygamy, sexual perversion, and religious persecution."
"Any society that substitutes humanity's latest and greatest ideas for God's truth and authority is on the fast track to ruin," Barna warned.
He said that much of the responsibility to change the trajectory of the nation lies in the hands of the Church and the family unit.
"The restoration of biblical truth can facilitate the turnaround of a declining society," Barna stated. "It starts with churches relentlessly and consistently teaching biblical truth principles for practical application within all dimensions of life. It requires churches equipping parents to teach those truth principles to their children."
"It demands parents placing their young people in educational, relational, and entertainment environments where God's truth principles are respected and practiced," he continued. "It advances by electing public officials who pass civil laws in harmony with God's religious Law."
"Restoring our foundations will be neither easy nor quick, but such a turnaround can happen if a remnant of God's people devotes themselves to such a process of cultural deliverance."
---